Weber out tonight, Flyers must wait to face would-be savior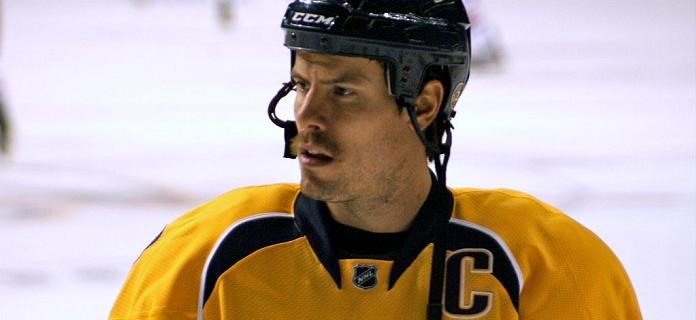 According to Kevin Wilson of the media relations staff, Nashville Predators captain Shea Weber is out tonight against the Philadelphia Flyers.
Tonight would have been the first time Weber played the Flyers since they signed him to a 14-year, $110 million offer sheet on July 18, 2012. Six days later, the Predators matched, thereby locking up their captain through 2025-26.
Weber got hurt when he was struck in the face by a puck late in the second period of Thursday night's loss to the Edmonton Oilers. He did not return and was listed after the game as "day-to-day."
The two teams have only met 16 times in their history but the rivalry is a hot one thanks to nine games decided by two goals or less and three more contests that ended in a tie. And then, of course, there's the surprise offer sheet to Weber. Most general managers won't attempt offer sheets because there seems to be a gentleman's agreement that it's an underhanded way to conduct business.
The newest member of the Nashville ownership group, W. Brett Wilson, went on Toronto radio a week later and talked about Philadelphia breaking "the code."
"I am not real happy with the spirit and intent of the way the offer sheet came together," Wilson said. "But I greatly respect Shea and I greatly respect that he had to do what was right for him."
You can't fault Weber. A new collective bargaining agreement was just months away and, among highly debated topics, contract limits was at the top of the list. Guaranteeing that kind of money for that long was just smart business, regardless of what you think about the deal itself.
"They're not doing that to Boston or to Montreal or to Toronto," Poile said shortly afterward of Philadelphia's tactics. "They're doing it because we're small market Nashville. They're doing it because our revenues aren't as high as other teams. They're doing it because our ownership group is a group and not a big individual or a corporation."
Humorously, a year later, disillusioned Flyers fans remain hopeful that Weber will soon be theirs.
With the lockout that erased the first few months of the season, the NHL was forced to truncate the 2012-13 schedule once a new CBA was reached. In doing so, teams only played other teams inside their conference. This means, of course, that Nashville didn't play Philadelphia last year and, as a result, tonight would have been the first time the Flyers played their would-be savior.
The Predators have announced that Kevin Klein is also out for tonight's game, have put forward Filip Forsberg on injured reserve and have recalled blueliner Joe Piskula from the Milwaukee Admirals
Philadelphia, by the way, used this past summer to buy out the exorbitant contracts they gave forward Daniel Briere (8-years, $52 million in 2007) and goaltender Ilya Bryzgalov (9-years, $51 million in 2011).
The official press release of the Piskula recall is below.
***
Nashville, Tenn. (November 30, 2013) – Nashville Predators President of Hockey Operations/General Manager David Poile announced today that the club has recalled defenseman Joe Piskula from Milwaukee (AHL) and placed forward Filip Forsberg on injured reserve.
Piskula, 29 (7/5/84), has five assists, 12 penalty minutes and a +3 rating while appearing in all 18 of the Admirals 2013-14 contests. He was the last defenseman assigned to Milwaukee before the start of the regular season on Sept. 29. The Antigo, Wis., native was acquired by the Predators from Calgary on Feb. 28, 2013, and has 10 career NHL games to his credit – five with Calgary in 2011-12 and five with Los Angeles in 2006-07. The 6-3, 214-pound blueliner has also played 411 AHL games in six seasons at the level, amassing 79 points (9g-70a) and 347 penalty minutes. Piskula played 112 games during a three-year career at the University of Wisconsin from 2004-07, posting 22 points (3g-19a) and 80 penalty minutes. In 2006, he helped the Badgers claim the NCAA title.
The Nashville Predators play six of their next eight games at Bridgestone Arena, beginning tonight at 7 p.m CT as the Preds host the Philadelphia Flyers (FOX Sports Tennessee, 102.5 The Game). The fun begins at 5 p.m. with a Smashville-style plaza party, presented by Lee Company and partnering with 102.5 The Game, Dunkin' Donuts and TJ Martell Foundation that will feature the always-popular smash car, inflatables, face painting, donut decorating and more! The Nashville Predators are offering half-priced upper-bowl tickets for tonight's game only. Tonight is also a McDonald's Family Four Pack night with tickets starting at just $33. McDonald's Family Four Pack tickets, available for every Saturday and Sunday home game, allow you to receive four gold hats and four items from McDonald's with every McDonald's Family Four Pack purchased. Limited tickets are still available; secure your seats today at nashvillepredators.com, the Bridgestone Arena Box Office or by calling 615-770-7800.
—
PHOTO CREDIT: Sarah Fuqua (used with permission)