What the Experts Say: Seth Jones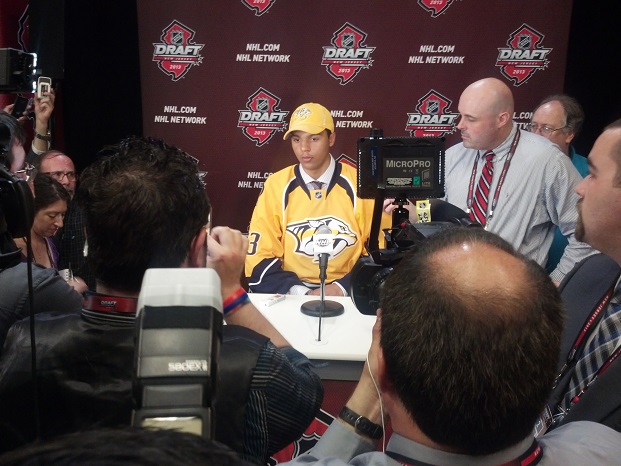 Our draft coverage is presented by Copeland Wealth Management. They help build and maintain wealth through a combination of customized direct investment strategies, trusted relationships and comprehensive financial planning. By helping you reach your financial goals, they reach their most important goal: becoming your trusted advisor.
***
The Nashville Predators used their first pick, 4th overall (first round), to pick defenseman Seth Jones.
THE BASICS
Team: Portland Winterhawks (WHL)
Position: defense
Age: 18
Height: 6'3″
Weight: 205
RANKINGS
THN: 1
McKeen's: 1
NHL Central Scouting: 1
Hockey Prospect: 2
ISS: 2
TSN's Top 75: 2
Hockey Prospectus: 3
WHAT THE EXPERTS SAY
Corey Pronman (Hockey Prospectus): "If Seth Jones has a weakness in his game, I do not see it… With his very large wingspan and mobility, Jones closes gaps with high efficiency and he can be difficult to get around. His best trait is his clearly elite hockey sense. Jones was making pro-level reads when he was 16, showing he was, and still is, advanced way beyond his years."
McKeen's Hockey: "Delivers searing tape-to-tape passes with a mere flick of his powerful wrists .. never shy about showing off a booming slapshot and likewise-potent wristshot .. a thoroughbred skater – remarkably nimble and buoyant .. only requires a few long, powerful strides to reach an elite top gear .. reverses direction with the speed and dexterity of a small, quick forward – yet using massive custom made, size-15 skates."
Hockey Prospect.com: "He has caught the attention of the entire hockey world it seems with his play this year, and which ever team that is able to pick him up in the NHL Entry Draft this year will have their hands on a franchise defenseman for years to come."
Elite Prospects: "A defenseman with an excellent frame. Jones' athleticism allows him to be a very good skater for a player of his size. He has excellent mobility and is solid both offensively and defensively. Jones gives a smart first pass and is also capable of utilizing his skating ability to bring the puck up himself."
The Hockey News: "He fits all the criteria to be a dominant NHL blueliner: size, mobility, smarts and poise. The only thing missing is a nasty streak, though physical play doesn't intimidate him. One scout said he knows Jones can handle the rough stuff, 'but you'd like to see him get mad sometimes.'"
B.J. MacDonald (NHL Central Scouting): "Seth is a big, rangy defenseman who has a nice command of his shifts. He has the ability to be a game-changer because he has good instincts and awareness. He's an underrated passer, possesses solid one-on-one play and can skate the puck out of danger at any time. He's already the complete package, but I get the feeling he still has another gear to go to."
TWITTER
@seth_jones3
—
PHOTO CREDIT: Jeremy K. Gover // section303.com
About Jeremy K. Gover
Jeremy grew up in the Bay Area cheering for the Sharks since their inception. He moved to Nashville in September of 2005 and became a season ticket holder a day later. Thankfully, he no longer bleeds teal. You can e-mail Jeremy at jeremy@section303.com.
Facebook