Poile announces Mike Fisher contract extension at Skate of the Union…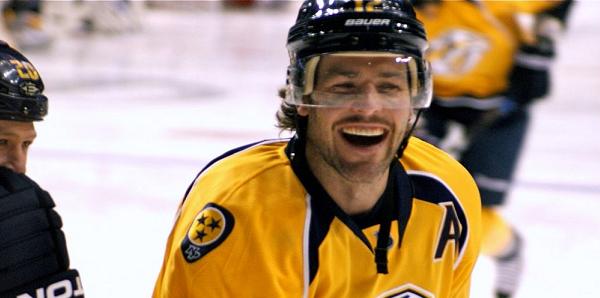 Last week, The Fourth Period reported that the Nashville Predators and Mike Fisher were "close" on a contract extension.
Today, in dramatic fashion, Fisher signed said extension and General Manager David Poile announced it to the thousands in attendance at the 2012 Skate of the Union event at Bridgestone Arena.
The Peterborough, Ontario, native has one year remaining on his current deal. Despite his cap hit of $4.2 million, he'll be paid just $3 million next year. Quite a bargain for one of the club's leaders. His new contract will keep him at the $4.2 million cap hit as it's a two-year deal worth $8.4 million, making him a Predator through 2014-15.
Fisher was third on the team in scoring last year with 51 points, battled back-and-forth during the month of March with Patric Hornqvist for the team lead in goals, came just three points shy of a new career high and is considered one of the leaders both on and off the ice. Since coming over in a trade from the Ottawa Senators in February 2011, he has 63 points in 99 games.
Fisher is the most recent in a long line of Predators that General Manager David Poile has retained this summer. Trade deadline acquisitions Hal Gill and Paul Gaustad put pen to paper and re-upped in Music City before they became free agents on July 1 and, since Ryan Suter bolted to the Minnesota Wild on July 4, Poile has locked up Shea Weber by way of an offer sheet from the Philadelphia Flyers, re-signed talented forward Colin Wilson and rewarded 2009-10 leading scorer Sergei Kostitsyn with a two-year deal.
Veterans Gill and Gaustad could have received larger offers on the free agent market but chose to stay put, Wilson signed at a great rate, Kostitsyn inked a bargain deal and now Fisher at an affordable $4.2 million a year. It seems like everyone but Suter was interested in staying with a contender.
—
PHOTO CREDIT: Sarah Fuqua // Flickr (used with permission)