Predators get Bouillon replacement, steady leadership in Scott Hannan…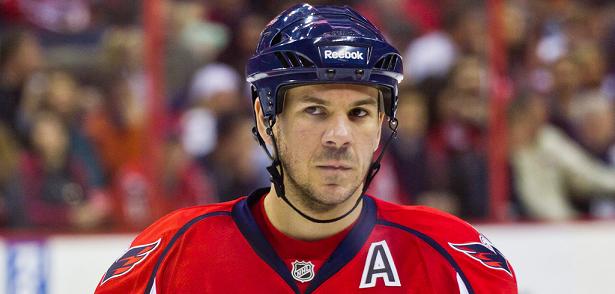 Remember that one time the Nashville Predators chose to let Francis Bouillon walk?
Meet his replacement.
General Manager David Poile and the Nashville Predators have announced that they've signed veteran defenseman Scott Hannan to a one-year, $1 million contract.
The Richmond, British Columbia, native was a first round pick of the San Jose Sharks back in 1997, went onto play in Northern California for eight seasons before signing with the Colorado Avalanche in 2007. Thanks to recent stints in both Calgary and Washington, when he suits up for the Predators in October, he'll be donning his fourth NHL jersey in 22 months.
Hannan, 33, is cut from the same cloth style-wise as Bouillon but is a younger and sturdier version who can also play a valuable role on the penalty kill. Bouillon, over the past couple seasons, battled concussion and injury issues making him a contract liability at 36 years old. Hannan has never missed more than seven games in any one season since becoming an NHL regular in 2000-01.
His stats won't blow you away (197 career points in 907 games) but that's not his role. He should be a valuable addition to a defense corps that boasts names like captain Shea Weber, veteran and Stanley Cup winner Hal Gill and blue chip prospects Roman Josi and Ryan Ellis.
The question mark, now, becomes Jon Blum. After being recalled mid-season in 2010-11 and becoming a regular for Nashville during their first ever run to the Western Conference Semifinals that year, Blum fell off the map. He played in just 33 games the next season before being sent back to the AHL-affiliate Milwaukee Admirals. There, he wasn't much better.
But things were looking up and Poile said on Monday that Blum has made a commitment to rebound and claim an NHL roster spot.
"He's been in Nashville since July to work on his strength, his size and his conditioning to get back to where he was a year ago," Poile said. "If that happens, that could be a real big bonus. Hopefully last year was a little bit of an aberration and he can be the surprise of training camp."
With Josi being paired with Weber to start the season, and with Gill mentoring Ellis on the third pairing, it seems as if Hannan will join forces with Kevin Klein to form a super-steady second pairing for Nashville. Not exactly a twosome that excites offensively but it would be a group that can be counted on in every situation.
We floated Hannan as a possible seventh defenseman for Nashville last summer but the timing wasn't right as the Preds were looking for a veteran blueliner who would sign a two-way contract. They got that in Jack Hillen. This season, however, they needed to fill a void left by Bouillon and add another leader in the midst of a young defense corps. Hannan can not only play the same style as Bouillon but he's served as an alternate captain on San Jose (2003-07) and as a fill-in alternate for Washington (see picture above).
The official press release is below.
***
Nashville, Tenn. (August 17, 2012) – Nashville Predators President of Hockey Operations/General Manager David Poile announced today that the club has signed defenseman Scott Hannan to a one-year, $1 million contract.
Hannan, 33 (1/23/79), has amassed 197 points (33g-164a) and 522 penalty minutes in 908 regular-season games and 15 points (1g-14a) and 89 penalty minutes in 82 playoff games with San Jose, Colorado, Washington and Calgary since the 1998-99 season. The 6-1, 225-pound blueliner enters the 2012-13 season having played more games than any NHL defenseman in the last 10 seasons (798). Hannan dressed for 75-or-more games for the 11th consecutive season (78), and averaged more than 20 minutes of ice time for the ninth time in the last 10 seasons (20:21) with the Calgary Flames a season ago.
The Richmond, B.C., native was drafted 23rd overall (first round) by San Jose in the 1997 Entry Draft, and was part of the gold medal-winning Canadian squad at the 2004 World Cup of Hockey. He joins captain Shea Weber as Kelowna Rocket alums in the Predators organization, having posted 139 points (46g-91a) and 339 penalty minutes in 235 games with the club from 1995-99.
With the Hannan signing, the Predators now have two defensemen with more than 800 games of NHL experience for the first time in franchise history (Hannan, 908gp; Hal Gill, 1,070gp). Both veterans – in addition to top-four blueliner Kevin Klein – also perennially rank among the League leaders in average penalty kill time on ice and blocked shots. That trio joins the two-time Norris Trophy runner-up Weber and talented, offensively gifted under-23 NHLers Roman Josi and Ryan Ellis, giving the Predators both three left shooting and three right shooting defensemen among their balanced top-six corps.
—
PHOTO CREDIT: Bridget Samuels // Flickr (used with permission)