Nashville loses for the first time since January 17…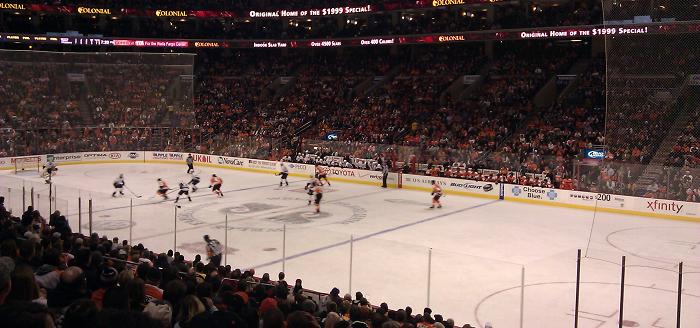 The Nashville Predators used an Eastern Conference opponent to get back-up goalie Anders Lindback some work once again.
And once again they got the same result.
In front of 19,823 at Wells Fargo Center, the Preds lost to the Philadelphia Flyers, 4-1.
Lindback gave Pekka Rinne the night off and, once again, played well despite the loss. The last time Lindback tended the nets was 16 days ago. Coincidentally, that was the last Nashville loss. But don't let that fool you. Lindback was superb against the New York Rangers on January 17 and he was outstanding in tonight's contest as well.
He turned aside 24 of 27 Philadelphia shots.
The home team was able to strike first. Wayne Simmonds was able to come off the boards into the slot, turn and fire a knuckle puck on net. But more than it was Simmonds' goal, it was Zac Rinaldo's goal. He channeled his inner-Tomas Holmstrom, setting up shop in front of the crease, making Lindback's visibility zero.
Flyers rookie forward Matt Read made it 2-0 when he rushed down the wing from his own zone, looked off Lindback, then fired a laser past the Preds netminder in the waning moments of the opening frame.
After an incredible third period that provided no fruits for their labor, the Predators finally solved Ilya Bryzgalov. With a little over 10:00 remaining in regulation, defenseman Ryan Suter joined the attack and Craig Smith gave him a perfect cross-ice feed that he one-timed into the Flyers net to pull his team within two.
But alas, while Jerred Smithson was in the box for an ill-timed interference call, Philadelphia put the game out of reach with a power play marker by Simmonds that made it 4-1.
All-Star Claude Giroux bagged the empty netter to close out the scoring.
Nashville will return to the friendly confines of Bridgestone Arena on Saturday night when they take on divisional rival St. Louis.
Puck drops at 7:00pm Central.
—
PHOTO CREDIT: Tracy Dean // special to section303.com (used with permission)