Nashville's futility in shootouts may cost them playoff spot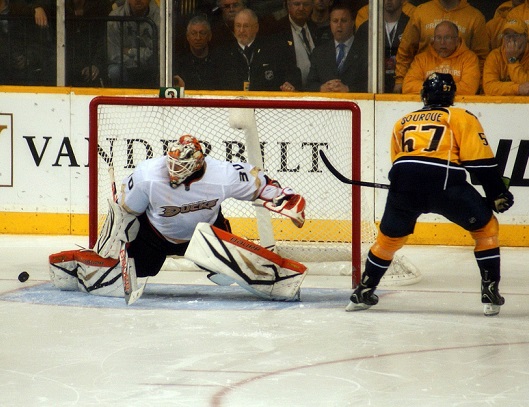 You know how, when playing 20-spot Keno, you actually win something if none of your numbers come up? That's what should happen with the Nashville Predators and the shootout. They should at least get something.
Not only have they failed to win a single game via the shootout this season but the Predators have scored just once in 19 attempts.
"That's not good enough," Head Coach Barry Trotz said. "It doesn't matter who's in net. We've got to score goals in the shootout because those are valuable points."
"It's frustrating," Mike Fisher said. "We've got to start finding a way to get some of those points."
In the ultra-competitive Western Conference, the difference between hosting at least two playoff games and trying to win the NHL Draft Lottery will likely be determined by a couple of points come April 13. Had the Preds won all five of those shootout games, they would be just five points out of the 8th and final playoff spot.
Instead, they sit in 12th.
Fisher, David Legwand, Craig Smith, Colin Wilson, Matt Hendricks, Matt Cullen, Patric Hornqvist, Gabriel Bourque and Filip Forsberg have all been called upon this season during the shootout but only Legwand has converted. On January 4 against the Florida Panthers, he bagged Nashville's lone shootout goal of the year.
"We've tried Cullen and Hendricks," Trotz said. "We've tried Fish, we've tried Wilson. We've gone through the pecking order, if you will. I wish I could say we could try someone else but we're probably 10-deep now in the people we've tried."
It might be time to think outside the box. We've seen Eric Nystrom score on a penalty shot this season so why not give him a kick at the can? I doubt there's an extensive book on Rich Clune breakaways so maybe give him a try. Or how about Shea Weber? He's got the second hardest shot in the league. Have him carry the puck up the ice, wind up in the high slot and watch the goalie just step aside for fear of decapitation.
None of these players are known for their elite one-on-one skills but, let's face it, desperate times call for desperate measures. If the more talented guys aren't getting the job done, it's time to call in the reserves. After all, Nashville hasn't won a game via the shootout since downing the San Jose Sharks on February 2 of last season. That's nearly a full year ago.
"It'll turn around for us," Trotz said with confidence. "I know the Red Wings went through like [six] in a row and they've got guys like Pavel Datsyuk and Henrik Zetterberg and some guys that are quite known for their one-on-one skills."
From the start of the season through December 19, Detroit dropped all six of their games that were decided by the shootout. The difference? They're in the East where only the top four teams would even be in the West's playoff picture. In short, they can better afford to sacrifice the points.
"Every team goes through it," Trotz added. "We've just gone through it a little too much for my liking this year."
Of course, it could always be worse. The New Jersey Devils, the only other team without a shootout win this season, are 0-7. At least the Preds are just 0-5.
"It's frustrating," Nystrom said. "Maybe it's more of a mental thing at this point now but there's going to be a big point in the season where we're in the shootout, we need it, and we're going to come away with the two points."
Hopefully that happens sooner rather than later. Being 12th in the West means there's no more room for error.
—
PHOTO CREDIT: Sarah Fuqua (used with permission)