Preds unload Hendricks, receive starting goalie from Oilers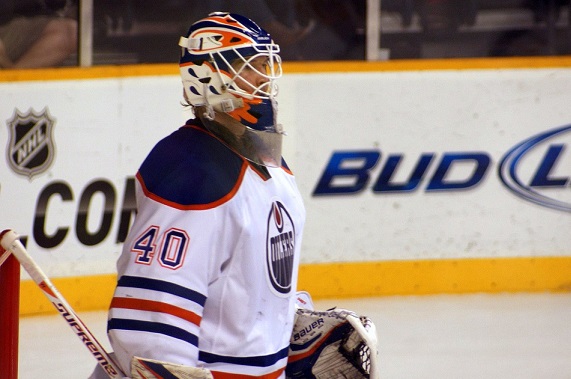 The Nashville Predators have made a trade in an effort to upgrade their situation in goal.
With Pekka Rinne's return date uncertain, General Manager David Poile has acquired goaltender Devan Dubnyk from the Edmonton Oilers in exchange for fourth line forward Matt Hendricks.
Dubnyk was drafted in the first round (14th overall) by the Oilers in 2004 and could become Nashville's starter as early as tomorrow night in Philadelphia.
Hendricks, an original draft pick of the Predators, split time between the Colorado Avalanche and Washington Capitals before returning (in a sense) to Nashville this past summer through free agency. Most wondered when he was signed if a 32-year old fourth liner was really deserving of a four-year deal worth $1.85 million per year. The prototypical "Predator player," Hendricks gave it everything he had on every shift and was a tremendous locker room presence.
Dubnyk is tall and lanky at 6'6″, 210 pounds. He has a career record of 61-76-21 on some horrendous Edmonton teams that have finished no higher than dead last in the Northwest Division since 2009-10.
Rich Clune and Eric Nystrom can supply the kind of blue collar work ethic that Hendricks provided and, as a bonus, it unclogs the bottom six at the forward position where one of Clune or Gabriel Bourque had to sit out on any given night.
Furthermore, it helps the goaltending situation. Rinne had an unexpected injury during the first month of the season and the Preds were forced to go with two rookies who had a whole one game of NHL experience between them in Carter Hutton and Marek Mazanec. They've managed to tred water to this point (they're just a single game under .500) but it's become apparent that the team doesn't have a true NHL starter. Dubnyk gives them that.
There's no time table for Rinne's return but the most recent news was promising. But why would the team bring him back before the season ended just to risk further injury if they weren't in playoff contention? Again, Dubnyk gives them a chance to do that.
This is nothing but a homerun by Poile. In an effort to get tougher, he signed Hendricks to a questionable contract in the summer and yet was able to move said contract to help address an area of need before it's too late. And, Hockey Night in Canada's Elliotte Friedman is reporting that the Oilers are retaining some of Dubnyk's $3.5 million annual salary as well.
Not too shabby.
On a personal level, Dubnyk should benefit from the defense-first system the Predators play as opposed to the system the Oilers play which is little-to-no defense. If the current campaign ended today, Edmonton would have finished with the most goals allowed in three of the past five seasons.
Now, if that sounds like a goalie problem, it isn't. The Oilers sit at 23rd in shots allowed league-wide and finished with rankings of 29th, 19th, 21st and 28th those four seasons before that. All that despite Dubnyk's respectable sub-3.00 goals-against averages in each year but this one.
By contrast, Nashville is currently ranked 13th and finished just once in the league's bottom half in the four years prior, including two seasons finishing as high as 8th.
Again, looks like a win-win for Poile, the Preds and Dubnyk.
Sorry Edmonton.
The official press release is below.
***
Nashville, Tenn. (January 15, 2014) – Nashville Predators President of Hockey Operations/General Manager David Poile announced today that the club has acquired goaltender Devan Dubnyk from the Edmonton Oilers in exchange for Matt Hendricks.
Dubnyk, 27 (5/4/86), has posted an 11-17-2 record, a 3.36 goals-against average, an .894 save percentage and a pair of shutouts while appearing in 32 of the Oilers' 49 games this season. The 6-6, 210-pound Regina, Sask., native has appeared in 171 career NHL contests – all with Edmonton since 2009-10 – including 38 of 48 games in 2012-13, 47 games in 2011-12 and 35 games in 2010-11. He has a .910 save percentage, 2.88 goals-against average and eight shutouts to go along with a 61-76-21 record.
Edmonton's first choice, 14th overall (first round), in the 2004 Entry Draft, Dubnyk has represented Canada at the past four World Championships (2010-13), and won a gold medal with his homeland at the 2006 World Junior Championships. A Kamloops Blazer (WHL) from 2001-06, Dubnyk was a 2004 recipient of Daryl K. Seaman Trophy as WHL Scholastic Player of the Year, and was the 2004 CHL Scholastic Player of the Year.
—
PHOTO CREDIT: Sarah Fuqua (used with permission)