Previewing the Predators' defense for 2011-12, part four…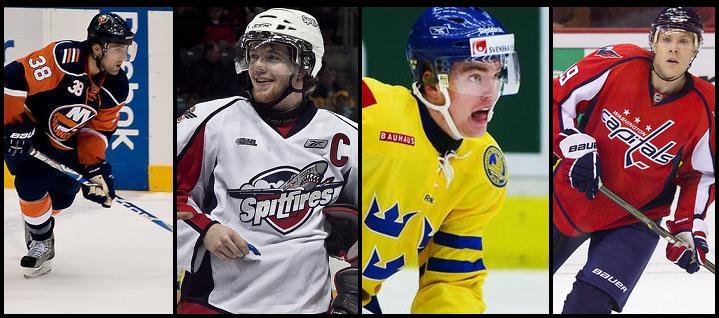 THIS IS THE NINTH IN OUR MULTI-PART SERIES PREVIEWING THE 2011-12 NASHVILLE PREDATORS ROSTER. A NEW INSTALLMENT WILL BE POSTED DAILY, THROUGH AUGUST 26.
—
If you missed yesterday's post featuring Roman Josi and Teemu Laakso, CLICK HERE.
—
ON THE OUTSIDE LOOKING IN
Ryan Ellis will have every opportunity to crack the Predator's roster out of training camp. The former first round pick is one of the most decorated players in Canadian Major Junior history and was ready for the professional level last year. Unfortunately, due to his age, he wasn't allowed to play in the AHL so it was either stay with Nashville and see limited ice time or go back to Windsor and lead the Spitfires for another season. The Preds chose Windsor. All that being said, Ellis will be playing professional hockey this year, the question now is at what level? Nashville needs scoring wherever they can get it. Ellis could, in theory, quarterback the second power play unit while receiving limited minutes in full strength situations. But, with other prospects ready to make the jump, the Freelton, Ontario native will most likely need to prove that his 5'10", 170 pound frame won't limit his potential against the bigger, stronger professional skaters. And he'll do that with the Milwaukee Admirals to start the year.
Mattias Ekholm has played in the world's second best league (the Swedish Elite League) and, as a rookie, posted incredible numbers (33 points in 55 games) en route to being named Elitserien Rookie of the Year. The 21-year old Borlänge, Sweden native is NHL ready. Period. He was one of the three "men among boys" at this summer's Rookie Development Camp and will be playing in North America this season. Just as with Ellis, he can provide the Predators some much needed offense but is a full five inches taller and is listed at 24 pounds heavier. In short, he's a big dude who can put points on the board. The only reason we project Ekholm to start with the Admirals is because of the old adage "the road to Nashville goes through Milwaukee." Having never played hockey on this side of the pond before, he may require a few months on the smaller ice surface before realizing his full potential. Or he may not. Don't be surprised if Ekholm "pulls a Marek Zidlicky" and goes directly from Europe to the Predators, bypassing Milwaukee altogether.
Jack Hillen was signed during the summer to help provide depth at the blueline position and, of course, challenge the up-and-coming prospects in camp. The Predators could've gone out and signed fellow veteran Scott Hannan to a one-year deal — the same as they did with Hillen — but Hillen was willing to ink a two-way contract. That gave Nashville the best of both worlds. That gave them a seasoned veteran on defense that's been moderately productive at the NHL level but, if he's sent down to Milwaukee, he'll help out the club financially by making a lot less money. The 25-year old could very well make the opening night lineup, especially if none of the blue chip prospects impress the coaching staff. The catch, however, is that two-way contract. Would they rather have a veteran with 175 games of NHL experience fill a hole on the NHL depth chart or give that same spot to a guy like Teemu Laakso who's paid his dues in the system? That's what the Predators have to decide.
Tyler Sloan, 30, is a journeyman minor leaguer who has spent time with the Syracuse Crunch (AHL), Dayton Bombers (ECHL), Las Vegas Wranglers (ECHL), Manitoba Moose (AHL) and Hershey Bears (AHL). All 99 games of his NHL experience have come in the past three seasons as a member of the Washington Capitals. The Calgary, Alberta native gives the Admirals some veteran presence on a blueline full of young elite prospects just waiting to make the jump to the NHL. If the injury bug hits the Nashville defense corps this year, Sloan would be an excellent call up. If it doesn't, he'll more than likely spend the entire 2011-12 campaign in Milwaukee. But, as with Hillen, his making the big club depends solely on what the young prospects do. If they all falter, Sloan will don his second career NHL sweater.
Francis Bouillon has suffered with symptoms of a concussion for over seven months now and, according to reports, suffered a setback this summer. Because of the setback, because of the dangers of coming back too early and because he's a family man and has more important things to worry about, we're projecting "Cube" on the outside looking in. If he were deemed healthy enough to play, there's zero doubt that he'd make the lineup and probably skate with one of the young, dynamic prospects to cover over their rookie mistakes. Bouillon, after all, is a physical, stay-at-home defenseman who excels at that part of the game. What better situation for a first time NHLer to play in? Unfortunately for Bouillon, it doesn't look like that's going to be any time soon. And that's a shame.
—
PHOTO CREDIT (from L to R): ShutterSpeak, Jennifer Kuhn, Bildbyrån and Bridget Samuels