OPERATION: Silver Lining (it all comes down to Saturday)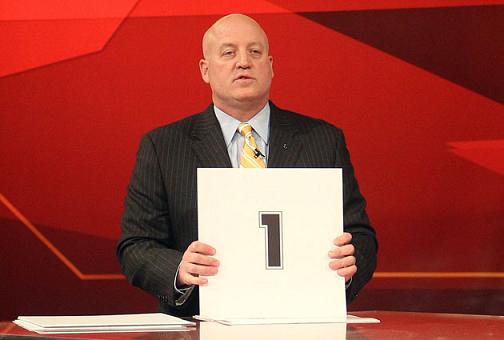 The Nashville Predators have been eliminated from the playoff race and, therefore, Operation: Miracle is dead. But fret not! We now have Operation: Silver Lining! We'll post this series every day until the end of the 2013 regular season.
—
After enduring a 2013 season where everything that could go wrong seemed to go wrong, the Nashville Predators finally get to put it to bed. Tonight, they'll close out the lockout-shortened year against the Blue Jackets in front of a ruckus Nationwide Arena full of playoff hopes and a bus load of Predators fans who faithfully made the trip up to Columbus via the Smashville Express.
Nashville is currently 27th in the league with 41 points and, thanks to Edmonton's 6-1 drubbing of the Minnesota Wild last night, can't finish any higher than 25th. And, with the Colorado Avalanche shootout win over the Phoenix Coyotes, the Preds are still in contention for the 29th spot. They'll need a regulation win from the Avs tonight to have any chance of that, however.
It seems weird to "root" for 29th in the standings but remember, the lower they finish in the standings, the higher their probability to win the draft lottery and/or pick in the top five. And, finishing 28th or 29th guarantees that one of the premier, elite prospects (defenseman Seth Jones, winger Jonathan Drouin and centers Natahan MacKinnon and Aleksander Barkov) will be available for the taking.
Everything will be decided tonight. Here are the games to keep an eye on in regards to Nashville's Silver Lining hopes:
TAMPA BAY (in 28th place) needs to beat FLORIDA

COLORADO (29th) needs to beat MINNESOTA in regulation or overtime
CAROLINA (25th) needs to beat PITTSBURGH
It's important to note that Calgary's season is over so they're locked at 42 points. The Flames sit in 26th place and, with a win, Nashville would pass them in the standings. If the Preds lose in overtime or a shootout, however, Calgary would finish ahead of them by way of more ROW's.
The lottery is Monday night, April 29. Make plans to watch it with us at Brewhouse South in Cool Springs. You can find all the details HERE. We hope you'll join us. It may be the last chance to celebrate with your fellow fans until the summer.