OPERATION: Silver Lining (who to root for on Friday)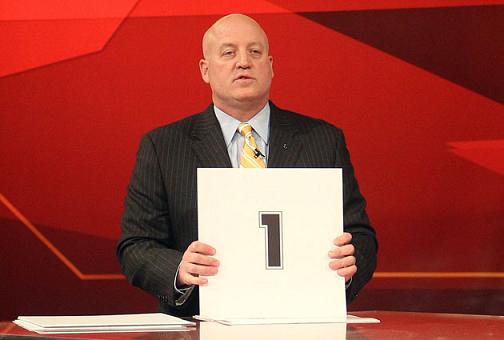 The Nashville Predators have been eliminated from the playoff race and, therefore, Operation: Miracle is dead. But fret not! We now have Operation: Silver Lining! We'll post this series every day until the end of the 2013 regular season.
—
The Nashville Predators got off to a good start against the Detroit Red Wings last night but, in the end, the Wings were just a little too motivated. Needing to get as many points as possible in their final two games of the year to ensure a playoff spot, they beat the Preds 5-2.
With one game left on their slate, Nashville is currently 27th in the league with 41 points and can't finish any higher than 24th or any lower than 29th.
Remember, the lower they finish in the standings, the higher their probability to win the draft lottery and/or pick in the top five.
They're in the danger zone right now. Having the fourth worst record in the National Hockey League gives the Predators a halfway decent chance to win the lottery (10.7%) but, if a team outside those bottom four wins, Nashville will pick fifth.
There are four guys who are considered "can't miss prospects" in this years class, defenseman Seth Jones, forward Jonathan Drouin and centers Nathan MacKinnon and Aleksander Barkov. Getting one of those guys is the goal. Anyone else could still turn out to be a fine prospect but would be considered a consolation prize. And, after such a tough season where everything seemed to go wrong, the Predators could use the good news.
The following games tonight are important to Nashville and their Silver Lining hopes:
EDMONTON (in 26th place) needs to beat MINNESOTA

COLORADO (29th) needs to beat PHOENIX
CALGARY (24th) needs to beat CHICAGO
It's important to note that if Colorado gets a point or less in either of their final two games, they'll clinch the 29th spot and, therefore, the second best odds to win the top overall pick. Also, for the Preds to have any "hope" for 29th, the Avs must win both of their last two games and at least one of those wins has to be in regulation.
The lottery is Monday night, April 29. Make plans to watch it with us at Brewhouse South in Cool Springs. You can find all the details HERE. We hope you'll join us. It may be the last chance to celebrate with your fellow fans until the summer.