OPERATION: Silver Lining (who to root for on Tuesday)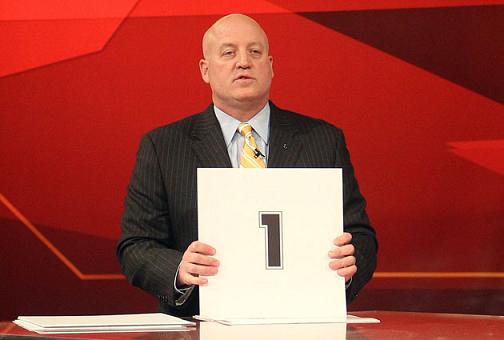 The Nashville Predators have been eliminated from the playoff race and, therefore, Operation: Miracle is dead. But fret not! We now have Operation: Silver Lining! We'll post this series every day until the end of the 2013 regular season.
—
The Nashville Predators got zero help from Buffalo and Edmonton last night but it wasn't the end of the world. Both teams winning wouldn't have moved the Preds down any further, it just would have created some more separation.
Remember, the lower they finish in the standings, the higher their probability to win the draft lottery and/or pick in the top five. The Predators haven't picked in the top five since 1998, before they even put ice in the arena downtown.
They currently sit in 27th with 39 points.
Nashville plays Calgary tonight in the final home game of the season. The Flames have won three in a row but have hurt their draft lottery chances by doing so. Regardless of the outcome tonight (hopefully a long overdue Nashville win), Calgary will remain ahead of the Predators.
If he does start for the Flames — and he does indeed retire after the season — this will be the final game Miikka Kiprusoff plays in Music City. A fifth round pick of the San Jose Sharks back in 1995, Kiprusoff has registered 319 career wins and 44 shutouts. He hasn't won a single playoff series since leading the Flames to the Stanley Cup Final in 2004 but has been highly successful on the international stage. The Turku, Finland, native is a two-time Silver Medalist at the World Championships, won a Silver Medal at the 2004 World Cup of Hockey and even won a Bronze at the 2010 Olympics.
Kiprusoff is the all-time winningest Finnish-born goalie in the National Hockey League. Nashville's Pekka Rinne is fourth all-time (152).
The games that matter to the Predators tonight are as follows:
CAROLINA (in 26th place) needs to beat the NEW YORK ISLANDERS

COLORADO (29th) needs to beat ST. LOUIS
BUFFALO (22nd) needs to beat PITTSBURGH
PHILADELPHIA (23rd) needs to beat BOSTON
The lottery is Monday night, April 29. Make plans to watch it with us at Brewhouse South in Cool Springs. You can find all the details HERE. We hope you'll join us. It may be the last chance to celebrate with your fellow fans until the summer.