Our favorite Anders Lindback moments: #4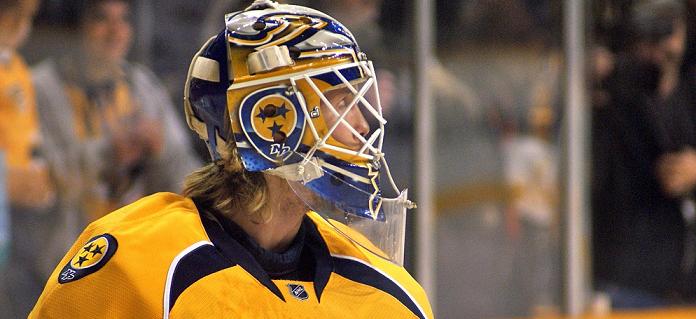 Few back-up goaltenders make a lasting impression on a fanbase. Even fewer do so who play less than 25 games a year. This is our tribute to Anders Lindback, who was traded to the Tampa Bay Lightning on Friday, June 15. Take care of him Bolts fans. He's a good one.
***
#4: THE SÄVE T-SHIRTS
In October of 2010, graphic designer and Predators season ticket holder Rachel Addison (now Rachel Rosato) got a creative wild hair and took to her computer. The end result was the SÄVE t-shirt.
All of a sudden Anders Lindback, a 6'6″ goalie who had never started a single game in North America, had a cult following.
"On Twitter, someone suggested the nickname 'Anders the Giant,'" Addison told us on The 303:30 podcast. "Then someone else said 'We've got to make posters!' and that's usually my cue to start making something."
And make something she did.
With the old WWF Andre the Giant "OBEY" posters in mind, the season ticket holder created a SÄVE graphic with Anders' likeness, complete with missing tooth. The original idea was to make printable posters for the Predators fans who were making the trek up to Chicago for his first NHL start, thanks to Pekka Rinne's injury in the season opener.
"I made it right away and decided to put it on a t-shirt," Addison said. "I was going to wear one to the O'Charley's Chill Out Party the next day and immediately I got about four other people saying they wanted a shirt too. So we wore them to the party to watch the game and the idea kept spreading so we kept making shirts."
The designer even gave Lindback his very own shirt after a practice one day.
"It was really nice to share a laugh with him," Addison said about the experience. "He knows that we're behind him and that we're welcoming him to the Nashville family. It was great."
According to Addison, the shirt is now hanging inside his family's house in Sweden.
The picture below was taken at the aforementioned O'Charley's Chill Out Party, a/k/a the SÄVE t-shirt debut. Addison is second from the left.
All proceeds from sales went to the Predators Foundation.
—
RELATED READING:
—
HEADLINE PHOTO CREDIT: Sarah Fuqua // Flickr (used with permission)
INSERT PHOTO CREDIT: Lynn Gover // special to section303.com