Our favorite Anders Lindback moments: #5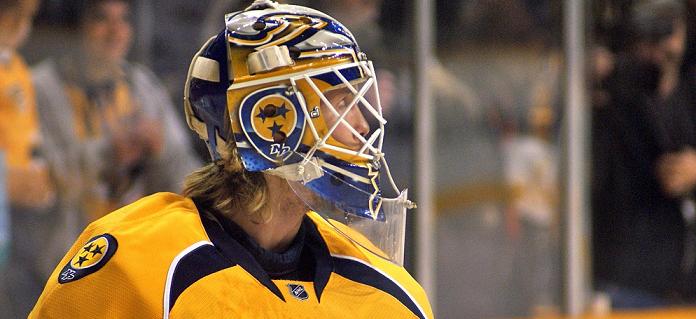 Few back-up goaltenders make a lasting impression on a fanbase. Even fewer do so who play less than 25 games a year. This is our tribute to Anders Lindback, who was traded to the Tampa Bay Lightning on Friday, June 15. Take care of him Bolts fans. He's a good one.
***
#5: A MOMENT A YOUNG HOCKEY PLAYER WILL NEVER FORGET
On December 3, 2011, Michael Dillard of the NYHL Mite Icebreakers was the "blueliner of the game." Dillard, however, was a goaltender. So, instead of taking in the national anthem on the blueline with the rest of the Preds starters, he got to stand with the starting goalie.
Anders Lindback just happened to be between the pipes that night and, in the few moments they spent standing next to each other, he provided one of the best non-performance moments of the season.
Just before the national anthem, Dillard (no taller than 4'0″) skated out and stood next to the 6'6″ netminder. If that wasn't cute enough, Lindback bent down and chatted with the mini-goalie for a few seconds.
"I just asked him 'What's up?'" Lindback recalled. "Then I asked him how he was feeling out there. He looked nervous."
It's moments like this that show the true personality and character of hockey players in general. And Lindback is no exception.
—
RELATED READING:
—
HEADLINE PHOTO CREDIT: Sarah Fuqua // Flickr (used with permission)
INSERT PHOTO CREDIT: Jessica Wilson // special to section303.com