Panthers even the score by taking the second game of the double header…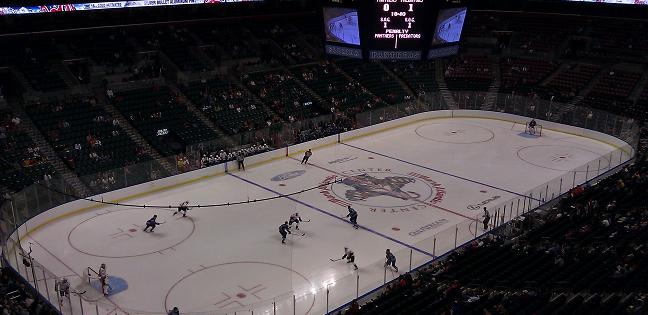 The Nashville Predators took the first game 5-3 but dropped the second contest by a score of 4-3.
The Florida Panthers were down 3-2 in the final stanza but turned things around on back-to-back goals in a matter of seconds to lock up the victory.
The scoring summary is below but the highlights include a goal in the opening minute by blueliner Teemu Laakso as well as two points by Blake Geoffrion.
Anders Lindback started the game for the Preds before being relieved by Atte Engren halfway through the contest. Lindback allowed two goals on just 15 Panthers shots while Engren didn't fare much better, stopping eight of 10.
First year pro Michael Latta was the only Pred without a single shot. He did, however, rack up seven penalty minutes after going toe-to-toe with Erik Selleck in the second period.
Goaltender Scott Clemmensen played the entire game for the Panthers, turning aside 23 of 26 Nashville shots in the victory.
—
SCORING
1st PERIOD: 0:59, NSH, Laakso 1 (unassisted); 4:39, NSH, Thang (Geoffrion, Halischuk); 15:51, FLA, Selleck (Matthias, Skille).
2nd PERIOD: 4:03, FLA, Huberdeau 1 (Gudbranson, Goc)-pp; 16:33, NSH, Geoffrion (Halischuk, Bartley).
3rd PERIOD: 8:13, FLA, Santorelli 1 (Huberdeau, Campbell)-pp; 9:06, FLA, Kennedy 1 (Robak, Kostka); .
SHOTS ON GOAL
Nashville: 11 – 9 – 6 = 26
Florida: 8 – 7 – 10 = 25
—
SPECIAL THANKS to Twitter users @rinkside, @OnFrozenPond and @hfialkov for live tweeting the game.
—
PHOTO CREDIT: Twitter user Elizabeth Williamson // special to section303.com (used with permission)