Preds victorious in first of back-to-back games…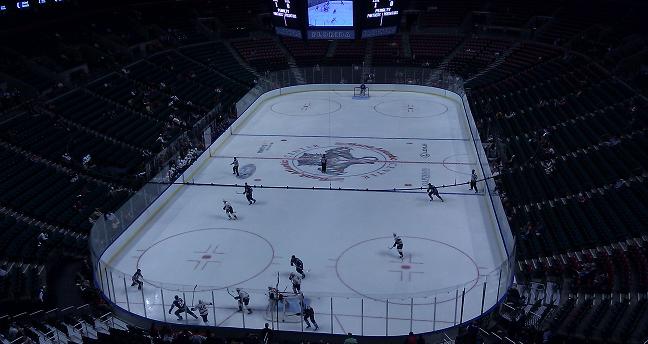 The Nashville Predators beat the Florida Panthers 5-3 in the first of their back-to-beck set.
The box score is below but some of the highlights are three assists by Sergei Kostitsyn, a goal and two assists by Colin Wilson, a goal and an assist by Jon Blum and Finnish prospect Jani Lajunen potting the game-winning goal.
Jeremy Smith started in the nets for the Preds while Tyler Plante started between the pipes for Florida. Smith, after allowing a power play goal on the last shot he faced, was relieved by Chet Pickard at 10:48 of the second period. Plante was replaced by Brian Foster midway through the game and gave up the final four Nashville goals.
Smith stopped 13 of 14 shots while Pickard only allowed two goals on 22 Panther shots.
The second game of the double header starts at 6:30pm Central.
—
SCORING
1st PERIOD: None.
2nd PERIOD: 2:02, NSH, C. Wilson 1 (Kostitsyn, Blum)-pp; 10:48, FLA, Kulikov 1 (Strachan, Reinprecht)-pp; 11:53, NSH, Mueller 1 (Kostitsyn, Tootoo); 15:40, NSH, Blum 1 (C. Wilson, Kostitsyn)-pp; 19:17, FLA, Cullen 1 (Thomas, Ellerby).
3rd PERIOD: 2:26, FLA, Rallo 1 (Esposito, McFarland); 16:49, NSH, Lajunen 1 (Beck, Sloan)-pp; 19:08, NSH, K. Wilson 1 (C. Wilson, Tootoo)
SHOTS ON GOAL
Nashville: 5 – 5 – 11 = 21
Florida: 10 – 8 – 16 = 34
PENALTIES
1st PERIOD: 9:12, NSH, Ford (interference); 10:26, FLA, Ellerby (interference); 12:22, FLA, Caruso (tripping); 14:49, NSH, Stortini (boarding); 19:56, FLA, Kearns (cross-checking); 19:56, FLA, Kearns (unsportsmanlike).
2nd PERIOD: 1:50, FLA, Caruso (high sticking); 9:35, NSH, Ford (slashing); 14:31, FLA, Petrovic (elbowing).
3rd PERIOD: 11:23, NSH, Valentine (boarding); 14:38, FLA, Seabrook (interference).
—
SPECIAL THANKS to Twitter users @rinkside and @hfialkov for live tweeting the game.
—
PHOTO CREDIT: Twitter user Elizabeth Williamson // (used with permission)