Pekka Rinne named this week's Second Star…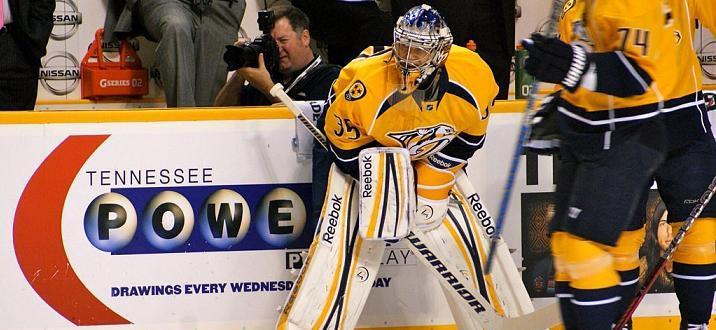 Along with Ottawa Senators center Jason Spezza and Pittsburgh Penguins pivot Evgeni Malkin, Nashville Predators netminder Pekka Rinne was named one of the NHL's Three Stars of the Week this week.
This is his first weekly honor of the 2011-12 season. He was named the Third Star of the Month last January and March.
The Kempele, Finland native is tied with last year's Vezina Trophy winner Tim Thomas for third in wins (16) and leads the NHL in appearances (29, tied with Cam Ward and Carey Price), shots faced (891) and saves (823). While his 2.48 goals-against average pales in comparison to the ridiculous 2.12 he posted last year, his .924 save percentage is nearly on par with his .930 mark of 2010-11. In addition, he's seventh in save percentage among goaltenders who have played in at least 20 games.
He went 3-0-0 during the week of December 11-18 and allowed just five goals in that span.
It's been said before but it bares repeating: as Rinne goes, the Predators go. Going into Tuesday night's game against the Washington Capitals, he's riding a five-game win streak, his longest of the season. In those five games, he hasn't given up more than three goals in any one contest.
The amazing thing? Despite this being his first league honor of the season, this isn't even Rinne's best stretch of the campaign. He was unbeatable in regulation for 10 straight games (7-0-3) from October 27 through November 17. If Nashville can get that kind of goaltending out of Rinne going forward, they very well could challenge for the Central Division crown.
—
PHOTO CREDIT: Sarah Fuqua // Flickr (used with permission)