Phillips scores two in his 1,000th game; Preds lose…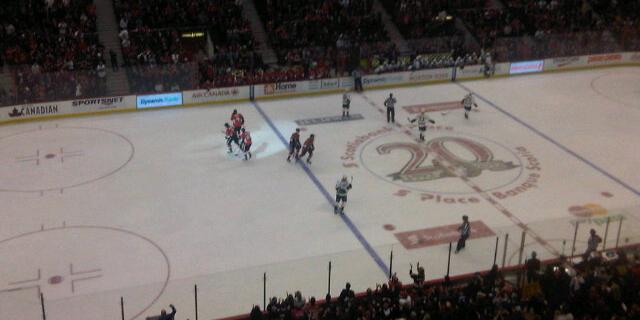 The Ottawa Senators are clinging to the eighth and final playoff spot in the Eastern Conference. Additionally, they were 0-6-1 in their last seven coming into the game.
In short, they are a team the Nashville Predators should beat.
Unfortunately, the Preds skated into Scotiabank Place and dropped a 4-3 decision in front of 18,592.
All-Star center Jason Spezza put the home team on the board early. With less than 5:00 gone, he broke down the wing and wristed a rising laser on Rinne.
The two teams wouldn't go into the locker room with that score, however, as rookie Gabriel Bourque used Sens defenseman Sergei Gonchar as a screen and fired a shot past Auld to tie the game.
Midway through the second, Sens blueliner Chris Phillips decided to score his first goal of the season in his 1,000th career game to regain the lead. The top overall pick in the 1996 NHL Entry Draft has played all 1,000 of his NHL games for Ottawa.
Using a power play, the Predators pulled even once again. Patric Hornqvist, in his office, tipped a Ryan Suter shot up and over Auld's pad to make it 2-2.
Before the frame would end, Ottawa pulled ahead once again. Spezza scored his second of the game by picking Nick Spaling's pocket behind his own net. He then jammed the puck home to make it 3-2, Senators.
In the final minutes of regulation, Phillips would add his second of the night — and second of the season — on the power play. A big, juicy rebound was left by Rinne and Phillips skated into the slot and put it past the Preds netminder to make it 4-2.
Martin Erat scored with 10 second left but it was too little too late for Nashville.
The Preds will continue their road trip by heading into the den of the defending Stanley Cup Champion Boston Bruins.
The puck drops at a special noon Central on Saturday.
—
PHOTO CREDIT: Stephen Smith // Sens Town (used with permission)