Poile breaks down the organization's goaltending depth…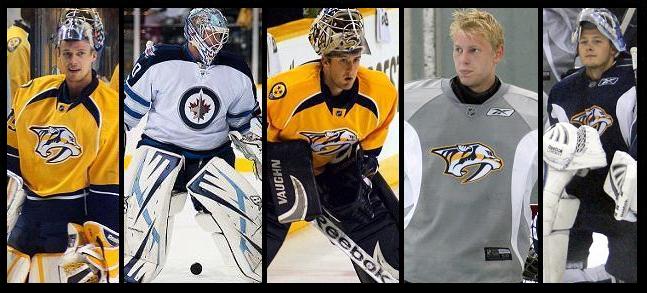 Seemingly lost in all of the Ryan Suter and Shea Weber news this summer was the revolving carousel that was the Nashville Predators depth chart in goal.
When you have a back-to-back Vezina Trophy nominee like Pekka Rinne on your hockey club, it's pretty obvious who will be in the crease when the 2012-13 season starts (hopefully on Friday, October 12 in Detroit). But what about the rest of the organization?
The first domino fell when the Predators moved Lindback to the Tampa Bay Lightning for two second round 2012 picks and a 2013 third rounder on June 15. While the Gavle, Sweden, native was a solid goalie for Nashville, the writing was on the wall due to Rinne's seven year contract extension.
"He asked to be moved under the circumstances," Poile confirmed. "He feels like he has potential to be a starting goaltender and, I think, we can agree with that based on what we saw and for what Tampa Bay paid us for a guy who's only played in (38) NHL games."
With Lindback now being a member of the Lightning, who will fill the back-up role? Enter former Nashville and St. Louis Blues starter (and fan favorite) Chris Mason. When free agency opened up on July 1, he was priority one for Poile and his staff. Who wouldn't want a starting caliber-goaltender on the roster, ready to dispel Rinne and his massive workload (Rinne played in a league-high 73 games last year)?
"It's a concern," Poile admitted to Hockey Night in Nashville. "Just like last year, there's a plan and then there's what really happens. There will be a game plan for all the opportunities where Chris Mason will play games and I would say it would be 57-25. It's a balancing act but you've got to make the playoffs first. And there aren't any shortcuts to getting there."
With the NHL side taken care of, the minor league waters became all the more murky during the summer. Then again, a move per month has a tendency to do that.
Just when you thought you had it all figured out, Milwaukee Admirals back-up Atte Engren signed a deal to return to his native Finland in May, the Predators signed 2011 second round pick Magnus Hellberg to an entry level deal in June, 2008 first round pick Chet Pickard decided to try and resurrect his career overseas in July and the Admirals liked Zoltan Hetenyi so much after his Development Camp tryout that they signed him to a one-year AHL deal in August.
(Get all that?)
In Milwaukee, that leaves Jeremy Smith as the starter for the second straight year. The 2007 second round pick posted the second most wins (31) and the most minutes (3,284) in the AHL last year and should have been a league All-Star. He's come a long way since being demoted to Nashville's ECHL-affiliate, the Cincinnati Cyclones, in 2009.
"Jeremy Smith seems to just keep clicking along and getting a little bit better every year," Poile said. "Whether he's going to get his chance here, I don't know."
Smith's AHL back up is slated to be Hellberg, a physical hybrid between Rinne (6'5″) and Lindback (6'6″).
"We're trying to go out and draft clones, at least in size," Poile joked. "He's the next project for Mitch Korn, the best goaltending coach in the National Hockey League. Hopefully, with his size and athleticism, he can turn into an NHL goaltender. He'll be ticketed to play in Milwaukee and be in the pipeline there."
This will be the 6'5″ Uppsala, Sweden, native's first tour of duty on this side of the Atlantic. He posted decent numbers with Frolunda of the Swedish Elite League last season but couldn't find consistent playing time with Anaheim Ducks prospect Frederik Andersen having a career year in which he was nearly unbeatable (1.62 goals-against average and a .943 save percentage). In addition, the smaller rink size in North America will take some getting used to.
"It was a tough situation in Frolunda last year," Hellberg said during Development Camp in July. "I want to be where I can develop my game the most. Now I can turn my focus to moving here and on the smaller rink. I have to play a little tighter in net and have to come out further to block angles. But I don't see it as a negative thing. "
With Nashville taken care of (Mason backing up Rinne) and Milwaukee taken care of  (Hellberg backing up Smith), where does Hetenyi fit in? Would the Admirals actually carry a third goalie when everyone — especially at that level — needs playing time in order to develop?
"Things had not been working out with Chet at all, in terms of his development," Poile said. "With him going over to Europe, we signed Zoltan and took a little bit of a flier on a guy from Hungary who had not been drafted and who's been playing in Finland. He's another project for Mitch Korn. He's got pretty good size and he did pretty well in conditioning camp so we're just going to take a look at him this year and see if he's got any potential."
Poile later confirmed the team has Hetenyi penciled into a Cyclones jersey.
Despite the sheer volume of movement within the organization, the crease seems to be in pretty good hands for Nashville, Milwaukee and even Cincinnati. First and foremost, however, Predators fans care about what happens at 501 Broadway once the 2012-13 season starts. Poile summed that up perfectly as well.
"In goal, I have to believe we're in good shape. We have one of the best — if not the best — in Pekka, and a great character goaltender, who we know can win games for us, in Chris Mason."
Good shape, indeed.
—
RELATED READING:
—
PHOTO CREDIT: all photos are courtesy of Sarah Fuqua except for Chris Mason (Gosh Images). All photos used with permission.