Preds acquire Mike Fisher from Senators…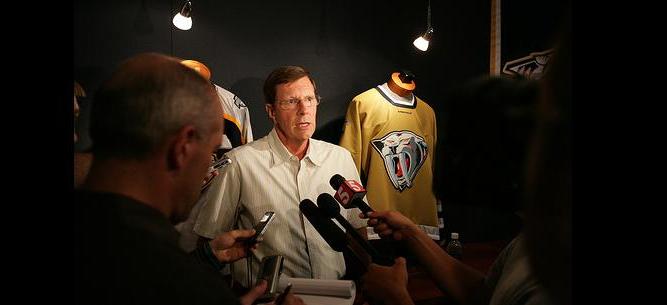 The Nashville Predators have acquired center Mike Fisher from the Ottawa Senators for a 2011 first round draft choice and a conditional pick.
If you don't recognize Fisher's name, perhaps you will by his nickname. "Mr. Carrie Underwood."
The 30-year old Peterbourgh, Ontario native has never scored more than 53 points in a season and has a cap hit of $4.2 million. He has two more years left on his current deal as well.
While a lot of fans are happy about this move based on the fact that the team didn't have to give up any roster players or prospects to land the centerman, I am skeptical. Fisher is not exactly a scoring machine, he's never scored more than 25 goals in a season and he's a consistent 50-pt guy. All those traits remind you of who? David Legwand? Martin Erat? Former Pred Jason Arnott? To me, it's just "more of the same" and it didn't really address the "scoring need" this team has. Did it help solve the injury problem at center? Absolutely. Did it bring in a guy with playoff experience? Sure. But did it really address the main need? No. And now the Preds have just another 30-something, 50-pt producer who has a long-term deal.
Given the fact that Poile didn't have to part with any players to get Fisher, however, I will reserve judgment on this deal because, who knows, maybe under non-Canadian media scrutiny the guy blows up? It's happened before (see: Lee Stempniak).
The conditional pick, TSN's Bob McKenzie is reporting, is a 2011 third round pick if the Preds advance to the second round of the playoffs. It turns into second round pick if they advance further than that.
In what appears to be a completely seperate deal, the Pittsburgh Penguins have also traded prospect Casey Pierro-Zabotel to Nashville. We're still awaiting word on went the other way, if anything. The Preds have assigned "CPZ" to their ECHL-affiliate Cincinnati Cyclones.
Pierro-Zabotel was a teammate of Nashville prospect Jonathan Blum's for two seasons with the Vancouver Giants of the WHL.
—
PHOTO CREDIT: The Tennessean (used with permission)