Stalberg expected to "miss 3-4 weeks" with shoulder injury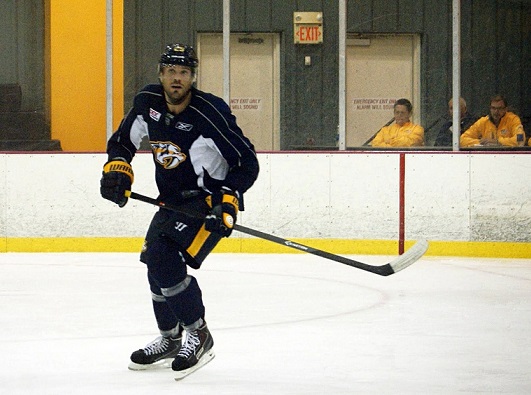 The Nashville Predators announced through Twitter that forward Viktor Stalberg has a shoulder injury and is expected to miss 3-4 weeks.
Stalberg skated gingerly to the bench early in Tuesday night's pre-season win over the Tampa Bay Lightning. He did not return and Head Coach Barry Trotz mentioned in his post-game comments that the team would keep him out of the remainder of the pre-season. Now we know he'll be held out longer.
If the Swedish winger is out for the full four weeks, he would make his Predators debut during the two-game homestand against Winnipeg and St. Louis on October 24 and 26, respectively.
Stalberg signed a four-year, $12 million deal as a free agent on July 4. He won the Stanley Cup with the Chicago Blackhawks last season and is being counted on to help Nashville's offensive production. He scored 22 goals and 43 points in 79 games during the 2011-12 season and even managed 23 points in 43 games last year. Impressive numbers given he was buried under a Chicago team that boasted superstars like Patrick Kane, Jonathan Toews, Patrick Sharp, Marian Hossa and 2013 Rookie of the Year candidate Brandon Saad.
The silver lining? The Predators are forward heavy. There are 15 NHL-caliber forwards on the roster and Stalberg's injury will allow one of the extras to get his fair share of playing time. Taylor Beck seems to be the likeliest candidate. In his cup of coffee at the NHL level last season, Beck managed seven points in 16 games and was Milwaukee's leading scorer (41 points in 50 games) before being recalled on March 19.
Beck still has AHL-eligibility and was probably going to become a victim of the numbers game. With Stalberg's injury, however, the odds of him starting the season with the big club increased dramatically.
—
PHOTO CREDIT: Sarah Fuqua (used with permission)