Preds avoid hearings on four of their five RFA's; sign O'Reilly, Spaling, Halischuk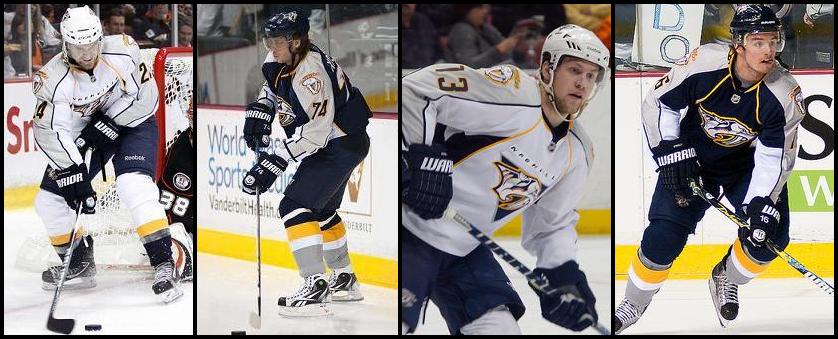 Cal O'Reilly was the team's second leading scorer before he broke his fibula in December. Nick Spaling was a penalty killing master on special teams. Matt Halischuk was an overtime hero in the Vancouver series. And Chris Mueller led the Milwaukee Admirals in scoring and filled in nicely at the NHL level when called upon.
All four were involved in the Qualifying Offer fiasco in which, allegedly, the Nashville Predators failed to properly file the correct paperwork in regards to seven restricted free agents. O'Reilly, Spaling, Halischuk, Sergei Kostitysn and minor leaguers Mueller, Linus Klasen and Andreas Thuresson. Since Thuresson has since been traded to the New York Rangers and Klasen has already signed a contact to play hockey in Europe, Nashville's lone concern at this point is with their leading goal scorer Kostitsyn.
While this may very well save the Predators depth chart from being decimated (had the ruling gone in favor of the NHLPA), it's not going to save the finances. According to the current collective bargaining agreement, when a team submits a Qualifying Offer to a restricted free agent, a player who made $599,999 or less the previous year is locked in for one more year at a 110% raise. If the player made between $600,000 and $999,999, they're re-upped for a year at a 105% raise. If they player makes more than $1,000,000, they're extended for the next year with a 100% raise.
Kostitsyn, however, stands to make a pretty nice paycheck after he led the team in goals and tied for the team lead in points. All for just $550,000. That's quite a value. If the ruling comes down and the 24-year old Belarusian is deemed an unrestricted free agent, he's free to sign wherever he wants. And, even with his comments in this post a week ago, it still gives all the bargaining chips to the player and his agent. Which, of course, means he can use other teams' offers against Poile and the Preds to drive up the price.
As far as the players who signed, Halischuk and Spaling inked two-year deals, Mueller signed a one-year, two-way deal while O'Reilly penned a one-year deal. Halischuk and Spaling really proved their worth down the stretch. They're terrific two-way players who play solid minutes on the bottom lines that can also chip in offensively.
It's believed that O'Reilly was only offered a one-year tender because of the question marks he presents. In his AHL career, he was a point-per-game player. Once earning his first call-up to the NHL, he went on a tear, posting five points in 11 games (including an assist in his first ever NHL contest). But then, after signing a new two-year deal the following summer, he came into camp complacent and skated through drills like he was entitled to something. That attitude placed him back in Milwaukee and he had to earn his way back. Even in his three recalls that season, O'Reilly didn't fare well, registering only 11 points in 31 games. Last summer, however, he reported to training camp ready to go. He found instant chemistry with veteran winger Steve Sullivan in the pre-season and that carried over into the October and November. His 18 points through December 8 were tops on the team, behind only his linemate Sullivan. But then, right when he seemed to finally be putting it all together, he went on an 11 game scoreless slide that eventually ended on January 2, 2011 when he broke his leg. He hasn't played since.
In short, O'Reilly will get one last chance to prove whether he's a full-time NHL center or a career AHL'er.
Either way, the good news for the Preds is that four of the five in-limbo restricted free agents are taken care of and secure. Now we wait for tomorrow when Kostitsyn has his hearing.
Fingers crossed.