Preds celebrate Pete Weber's birthday with a win over Columbus…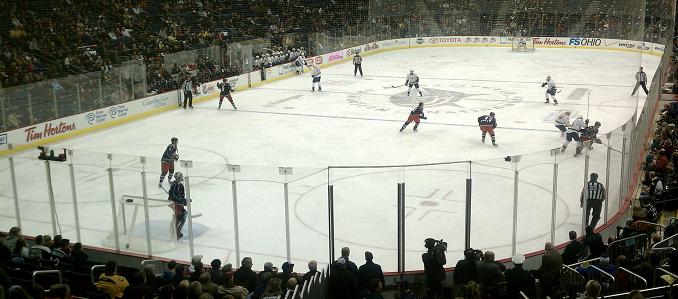 Happy Birthday Pete Weber!
Hope you like your present! The Nashville Predators got you a win, two points in the standings and dealt the Columbus Blue Jackets their first shutout loss of the season.
In front of a reported 17,233 at Nationwide Arena, the Preds blanked the host team 3-0 behind goals from Martin Erat, Mike Fisher and Shea Weber and an amazing performance by Pekka Rinne.
The Kempele, Finland native turned aside all 38 shots he faced (including 18 in the third period alone), improving to 25-11-0 on the season.
"That guy's unbelievable," Erat gushed about his goaltender. "He's keeping us in every single game and that's important for us."
"He made two great saves in the second period," Head Coach Barry Trotz said. "To me, that was game, set, match."
Columbus bench boss Todd Richards agreed, adding simply "He's a world class goalie."
Nashville scored their first goal in five and a half periods when Sergei Kostitsyn corralled an errant puck off the boards and broke in with Erat 2-on-1. He was able to get the puck over to Erat, who was crashing the net, to open the scoring.
Just moments later, while on the man advantage, Fisher tapped home a beautiful tic-tac-toe play from Erat and rookie blueliner Roman Josi. The Swiss defenseman found Erat cross ice in the face-off circle who, in turn, found Fisher backdoor for the goal.
"I just tried to get in the right area," Fisher recalled. "It was the perfect pass."
Weber would score on the empty net from 170 feet away to seal the game for Nashville.
"I thought we played a pretty good game," Richards said. "I thought we outplayed them in the first, they outplayed us in the second and I thought we really controlled the third.
"We had one mistake: we broke before they did."
The Predators will now turn their attention to another division rival, the Chicago Blackhawks. The 2010 Stanley Cup Champions will be playing their second game in as many nights (with travel) as they'll play the Florida Panthers at United Center on Friday night.
Puck drops inside Bridgestone Arena at 7:00pm Central.
—
SPECIAL THANKS to the Columbus Blue Jackets media relations department for all quotes.
—
PHOTO CREDIT: Patten Fuqua // puckscene.com