Preds dive into free agency by signing a familiar face to back up Rinne…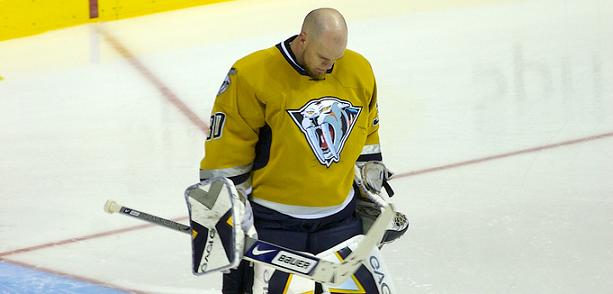 No, the Nashville Predators have no re-signed Ryan Suter. And no, they have not inked Zach Parise. They have, however, done as expected. They've signed a veteran goaltender to back-up Pekka Rinne.
Kevin Allen of USA Today is reporting that Chris Mason is returning to Music City.
Terms have been reported as a one-year contract paying $1.25 million.
The 36-year old Red Deer, Alberta native was a 1995 draft pick of the New Jersey Devils but started his NHL career as a member of the Predators. His 135 games between the pipes is fourth most all-time for a goalie in a Preds sweater, as are his 58 wins. After moving on in 2008, Mason has played for the St. Louis Blues, the Atlanta Thrashers and the new installment of the Winnipeg Jets. Nashville will be his fourth city in four years.
The signing is mutually beneficial. The Preds get a reliable back-up to Rinne for one year (buying time for either Jeremy Smith or Magnus Hellberg to be NHL-ready) and Mason gets to play in a city his family called home for six of his 10 NHL seasons.
Here's a recap of Mason's career stats:
The official press release is below.
***
Nashville, Tenn. (July 1, 2012) – Nashville Predators President of Hockey Operations/General Manager David Poile announced today that the club has agreed to terms with goaltender Chris Mason on a one-year contract worth $1.25 million and $250,000 in potential bonuses for a cap hit of $1.5 million.
Mason, 36 (4/20/76), returns to Predators' organization where he spent eight seasons from 1998-2002 and 2003-08. The Red Dear, Alta., native posted a 58-43-12 record with a 2.61 goals-against average a .913 save percentage in 135 games with the Predators in addition to playing 173 games for the team's primary developmental affiliate, the Milwaukee Admirals. Since his most recent departure from Nashville, he has played two seasons for St. Louis (2008-10) and two seasons for Atlanta/Winnipeg (2010-12), most recently posting an 8-7-1 mark with a 2.59 goals-against average and a .898 save percentage and a pair of shutouts in 20 games for the Jets in 2011-12.
New Jersey's seventh selection, 122nd overall (fifth round), in the 1995 Entry Draft has appeared in 306 career NHL games notching a 136-106-31 record, a 2.63 goals-against average, a .910 save percentage and 23 shutouts.
Bridgestone Arena has something for everyone this summer. Come out for great events like James Taylor, Rod Stewart and Stevie Nicks, Barry Manilow, the Tresspass America Tour, and more.
Visit http://www.ticketmaster.com/venue/221417 to get your tickets today!
—
Codey Holland also contributed to this post.
—
PHOTO CREDIT: Jameson Roper // Flickr (used with permission)