Preds sign Paul Gaustad on Free Agent Frenzy Eve…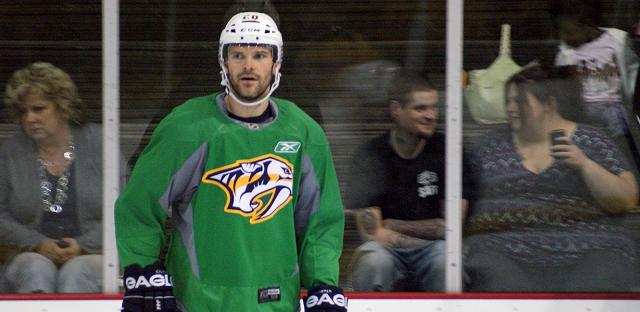 He was one of the final players moved at the trade deadline in February and, last night, he became one of the final players signed before free agency opened.
The Nashville Predators have re-signed center Paul Gaustad.
Gaustad, 30, is now locked up through the 2015-16 season and is set to make $3.25 million per year.
If you're thinking that four years at $13 million is a little steep for a third line center, you're not alone. However, you must remember that Gaustad brings a lot to table that the Predators don't have in-house right now. First off, he can take face-offs right-handed or left-handed, making him extremely valuable in the circle. Secondly, he's a tremendous penalty killer. Thirdly, when healthy, he can produce 30 point seasons from the bottom six. Fourthly, he has leadership qualities that the Predators really covet in their veterans. He was an alternate captain both with the Buffalo Sabres before the trade and with Team USA at the World Championships in 2011.
"If he signs that fills a specific hole," General Manager David Poile told Josh Cooper of The Tennessean yesterday before the news broke. "If he doesn't, that's a specific hole we will have to fill on July 1."
The Fargo, North Dakota native was acquired, along with a fourth round pick, in exchange for a first round choice last weekend. He's also the second trade deadline acquisition to sign with the Predators before hitting free agency. Just two days prior, Nashville inked defenseman (and fellow penalty kill specialist) Hal Gill to a two-year deal. Winger Andrei Kostitsyn remains the only rental player that the Predators brought in at the deadline left un-signed.
The free agency period kicks off at 11:00am Central today.
The official press release is below.
***
Nashville, Tenn. (July 1, 2012) – Nashville Predators President of Hockey Operations/General Manager David Poile announced today that the club has signed forward Paul Gaustad to a four-year, $13 million contract.
Gaustad, 30 (2/3/82), has finished no lower than seventh in the NHL in face-off efficiency in each of the past three seasons, and ranked ninth among League forwards in average shorthanded time on ice in 2011-12 (2:45). Acquired from Buffalo along with a fourth-round pick in the 2013 Entry Draft from Buffalo for a first-round pick in the 2012 Entry Draft on Feb. 27, 2012, the 6-5, 212-pound center posted four assists in 14 regular-season games for the Predators, completing his seventh NHL campaign with 21 points (7g-14a) and 76 penalty minutes in 70 regular-season games between Buffalo and Nashville. The Portland, Ore., native also appeared in all 10 of Nashville's postseason games, posting a pair of points (1g-1a) – including its first goal of the postseason – in addition to ranking seventh in postseason face-off efficiency (60.1 percent).
Buffalo's sixth selection, 220th overall (seventh round) in the 2000 Entry Draft has appeared in 493 career regular-season games, amassing 185 points (71g-114a) and 591 penalty minutes and 48 playoff contests, posting 10 points (1g-9a) and 42 penalty minutes.
Bridgestone Arena has something for everyone this summer. Come out for great events like James Taylor, Rod Stewart and Stevie Nicks, Barry Manilow, the Tresspass America Tour, and more.
Visit http://www.ticketmaster.com/venue/221417 to get your tickets today!
—
PHOTO CREDIT: Sarah Fuqua // Flickr (used with permission)