Preds dominate Hawks, leapfrog Detroit with win…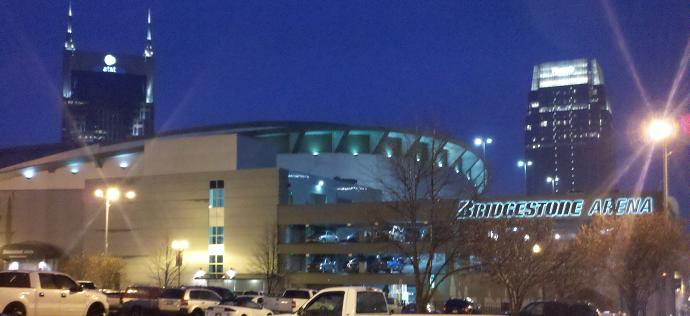 "Hell Week" has officially started for the Nashville Predators.
The good news is, it's started off well.
In front of 21,463 inside United Center, the Nashville offense came alive, blasting the Chicago Blackhawks 6-1 on Sunday night.
Pekka Rinne may have started Saturday night against the Winnipeg Jets but that didn't stop him from turning aside all but one shot on Sunday. He collected 24 saves, his 41st win of the season and even got an assist in the victory.
The Predators jumped out to an early lead thanks to the fourth line. Matt Halischuk, deposited a Brandon Yip pass into the back of the Chicago net to go up 1-0 in this critical Western Conference tilt.
Andrei Kostitsyn would give the Predators a 2-0 lead before the first period came to a close. While streaking down the far side of the ice, David Legwand fed him a puck and he promptly wristed it over Corey Crawford's blocker for the score.
Things would get worse for Chicago when, on a second period power play, Shea Weber blasted one from the point that deflected off of both Alexander Radulov and Patric Hornqvist and into the back of the net for the 3-0 lead.
Not exactly known for his offensive abilities, Preds defenseman Francis Bouillon made it 4-0 early in the third period with a rising shot from the point that sailed over Crawford's glove and into the top corner. The four goals on 15 shots was enough to end Crawford's night as Ray Emery would come in to replace the Blackhawks netminder.
Chicago found some offense on a Viktor Stalberg goal that would end Rinne's shutout bid but, less than a minute later, a Weber blast put the Predators back up by four.
Mike Fisher would add a late marker to round out the scoring and put Nashville ahead of the Detroit Red Wings in the standings. The Sunday night victory would also keep the Blackhawks at arms length, i.e. four points back of now fourth place Nashville.
The Preds will now travel to St. Louis to take on the Central Division and Western Conference leading Blues. Winning the Central seems a bit far fetched for Nashville seeing as they're seven points back but, until the Blues have clinched the division, it's still possible. And Tuesday night's game will be a four point swing, either way. Can Nashville pull within five and make things interesting?
Puck drops at 7:00pm Central.
—
PHOTO CREDIT: Jeremy K. Gover // section303.com