Preds drop the season opener in a shootout but will take the point…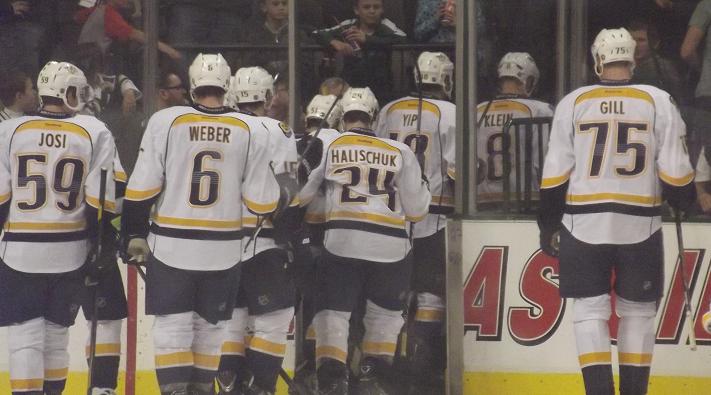 Not exactly how you want to start off three games in four nights. But hey, they'll take the point.
In front of 17,113 at Bridgestone Arena, the Nashville Predators squandered two one-goal leads and then eventually lost in a shootout to the visiting Columbus Blue Jackets.
"It always feels like a loss when you lose at home in a shootout," Head Coach Barry Trotz said. "But, hey, every point is going to be critical."
Pekka Rinne was outstanding, collecting 26 saves in the loss. His counterpart, Sergei Bobrovsky, turned aside 32 Nashville shots en route to his first victory since April 1, 2012 when he was a member of the Philadelphia Flyers.
It didn't take long to get things started. Preds winger Martin Erat carried in from the blueline and wired a wrister through Bobrovsky from the slot to give Nashville the 1-0 lead.
Late in the opening frame, however, the Blue Jackets answered. Erat took a penalty and, on the ensuing Columbus power play, Fedor Tyutin fired a rocket from the blueline that found its way past Rinne.
The Predators would answer in the closing minutes. Sergei Kostitsyn, playing the point on the power play, sent the puck diagonally to Ryan Ellis. The former Windsor Spitfire phenom was parked to Bobrovsky's glove side and backhand tapped it on net. The puck slid under a couple bodies and, eventually, into the net to give the home team the 2-1 lead headed into the first intermission.
"In the second period, I thought we controlled the first 10:00 pretty strongly," Trotz said. "But then I thought they controlled the next 10:00."
Sure enough, with 7:55 left in the middle frame, the Blue Jackets re-tied the game. Artem Anisimov, a key piece in the Rick Nash trade last summer, broke into the zone behind Paul Gaustad and wristed a shot past Rinne.
Despite David Legwand scoring in the third round of the shootout to keep the Predators in it, the Jackets took both points on a Derick Brassard goal in the sixth round. Nashville forward Craig Smith tried to force another round but his shot was saved by Bobrovsky, giving Columbus the victory.
The Predators will now focus their attention on the St. Louis Blues. The two Central Division favorites will face-off on Monday night at 5:00pm Central in Music City.
The Blues lambasted the Detroit Red Wings tonight, 6-0.