Preds fail to shoot the puck (again), lose to Blackhawks…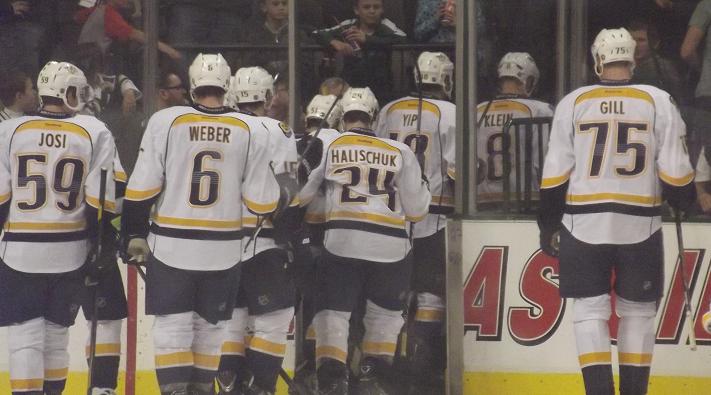 The Nashville Predators have one of the worst offenses in the league (24 goals in 12 games) and, in order to correct that, they need to shoot the puck.
Stop me when you've heard this before.
The Preds have had some low shot efforts this season. They had just 14 against Los Angeles on February 7, 19 against St. Louis on February 5, 14 against the Kings on January 31 and an abysmal 13 against the Blues on January 24.
They can add tonight's game to that group as Nashville mustered just 17 shots on goal in an ugly effort, losing to the Chicago Blackhawks, 3-0.
Chicago is now 10-0-2 on year, leads the Central Division, is the top team in the Western Conference and is undefeated in regulation through a quarter of the NHL season.
Nashville netminder Pekka Rinne turned aside 24 shots in the loss.
The two teams played penalty-free and goal-free hockey in the opening 20 minutes. There was a little foreshadowing, however, as Nashville put just three shots on goal in the frame.
In the second, Marcus Kruger may have gotten on the board for Chicago but Predators defenseman Roman Josi played a big part. The puck bounced into the Nashville zone and the Bern, Switzerland, native tried to kick the puck out. Instead, it went right to a forechecking Kruger who fired a wrist shot that beat Rinne stick-side.
Just moments later, Jonathan Toews added his name to the scoresheet when Duncan Keith put a backhander toward the net. It hit Toews on it's way in, giving his team a 2-0 advantage.
In the final period, Patrick Kane got a fortunate bounce and put the Blackhawks up 3-0. In a shot that looked eerily similar to his Stanley Cup winning goal in 2010, Kane fired an innocent shot as he was skating down the wall. While Rinne was trying to creep back into position along the near post, the shot caught him a bit off guard and slid into the net.
The Predators can't possibly expect to win more games than they lose when they register less than 20 shots per game. So far this season, they've played 12 games and have only outshot their opponent once. If that wasn't bad enough, Nashville has put less than 20 shots on goal in nearly half (five).
This week is a busy one for the Predators. On Tuesday, they'll host the San Jose Sharks, on Wednesday they'll participate in the GnashVegas Gala (you can get your tickets to this amazing event HERE), they'll play the Phoenix Coyotes the very next night and then complete their homestand when they take on the Anaheim Ducks on Saturday.
Puck drops on Tuesday at 7:00pm Central. You can catch all the action at Bridgestone Arena, on the radio at 102.5 The Game or on TV on Fox Sports Tennessee.
LEFTOVER THOUGHTS:
* Former Predator Sheldon Brookbank was among the scratches for Chicago.
* Brookbank played in three games for Nashville back in 2006-07, amassing a single assist and 12 penalty minutes.
* Patric Hornqvist (injured), Matt Halischuk and Brian McGrattan were scratched for the Predators once again.
* Halischuk hasn't played since February 2 in San Jose.
* McGrattan hasn't dressed since January 21 against St. Louis.
* Hornqvist was hurt January 26 in Anaheim and is expected to miss 2-3 more weeks.
* Rinne hadn't allowed an even strength goal in 316:40 before Marcus Kruger's second period tally.
* Bridgestone Arena was sold out for the 17th consecutive time, dating back to last season.
THE THREE STARS OF THE GAME:
1) Marcus Kruger (CHI)
2) Patrick Kane (CHI)
3) Corey Crawford (CHI)
—
PHOTO CREDIT: Melissa Grissom (used with permission)