Rinne spectacular as Preds win in OT…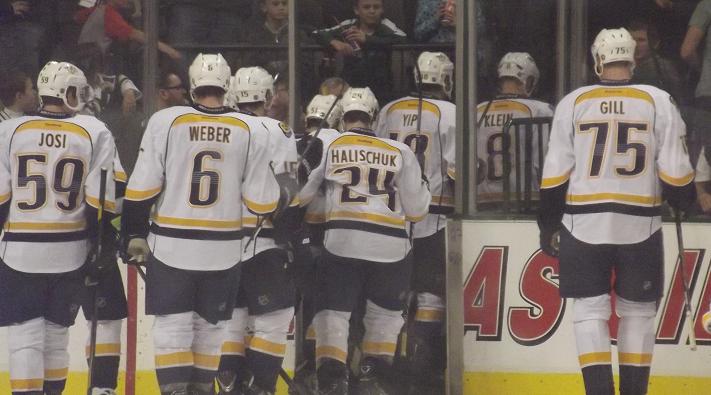 The last time these two teams met, one was going through some struggles and the other was on top of the world. The Nashville Predators took a surprising 2-1 shootout victory from the San Jose Sharks on February 2, giving the Sharks their first loss of the season. Since then, the Preds are 2-1-1 while San Jose is 0-3-1.
That trend continued Tuesday night.
Nashville overcame an "unacceptable" first period in which they managed just three shots on goal to eventually beat their rivals from the Bay Area, 1-0, in overtime.
Pekka Rinne was absolutely outstanding tonight. His 13-save first period was a goaltending clinic as he single-handedly kept his team in the game.
"We had great goaltending in the first period," Head Coach Barry Trotz said. "We weren't even in that game without Pekka Rinne in that first period."
The Kempele, Finland, native stopped 25 shots in all, en route to his fifth win of the campaign. The 5-3-3 record he boasts may not look overly impressive but when you consider his team is the only NHL club with a sub-2.00 goals scored per game average (1.77), the fact that Rinne is winning games is amazing.
Trotz and the coaching staff have preached all season long: "When you throw pucks at the net, good things happen." They couldn't have asked for a better example than the winning tally. David Legwand fed Ryan Ellis a perfect breakout pass from his own zone. The former Windsor Spitfire carried into the Sharks zone and fired a wrist shot at Antti Niemi. Colin Wilson, driving hard toward the crease, was able to get a stick on the shot once it trickled through the Sharks netminder, giving the Preds the victory.
"Even if it's just a simple shot, like the one I took there," Ellis said. "You need to put pucks on net because you never know what happens. And, if you're not doing that, you're not getting chances."
Goals are nice and all that spice but the real hero on Tuesday night was Rinne. His stellar play this season has him in the Hart Trophy conversation and the game against San Jose was a perfect reason why. He gives his team a chance to win each and every night.
"We have the best goalie in the world," Predators defenseman Jon Blum said about his goaltender. "You saw that tonight. The saves he was making were unbelievable. He's definitely keeping us in it when we're not getting the offensive chances."
Blum's coach agreed.
"He's probably making a case for MVP in the league," Trotz said. "Forget our team, he is the most valuable player on our team right now. I could stack him up against anybody who's having an MVP season right now."
Rinne and the Preds will continue their four-game homestand with a tilt against the Phoenix Coyotes on Thursday night. Puck drops at 7:00pm Central and you can watch all the action on FS-Tennessee and hear it all on 102.5 The Game.
Speaking of 102.5 The Game, yours truly will be co-hosting SlapShot Radio with Paul McCann on Wednesday night! Be sure to tune in!
—
PHOTO CREDIT: Melissa Grissom (used with permission)