Preds find just enough offense to dethrone Kings…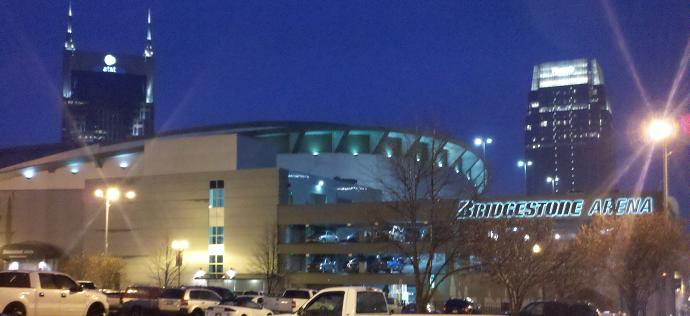 It was a really busy day in Music City. The Nashville Predators kicked off NHL Trade Deadline Day by giving a second round pick in 2013 to the Montreal Canadiens for forward Andrei Kostitsyn. Later on, they closed out the day by sending the Buffalo Sabres a first round pick in this summer's draft for penalty kill specialist and face-off extraordinaire Paul Gaustad and a fourth round pick.
Then, if that wasn't enough, they played a hockey game.
All of Pred Nation was in attendance to the news and events during the day and 15,685 at Bridgestone Arena continued the celebration by watching their hockey club knock off the struggling Los Angeles Kings, 2-1.
A 30 save performance by Pekka Rinne improved his record to 35-13-7. His 35 wins is an NHL high.
In the opening frame, Roman Josi tossed a would-be pass toward the net when Kings defenseman Drew Doughty created a bit of a peccadillo. While marking his man, he deflected the puck past Jonathan Quick for the early 1-0 Preds lead.
Early in the second period, Patric Hornqvist would increase the Nashville lead to two. Moments after Jeff Carter rung a shot off the pipe in the Nashville end, David Legwand banked a pass off the end boards in the Los Angeles end. Hornqvist one-timed it off the end boards past Quick for his team leading 18th goal of the season.
The Kings made things interesting on a Dustin Brown goal that went off of Ryan Suter's leg in front but it was too little, too late.
The Predators have very little time to savor this victory as they play less than 24 hours from now in Raleigh, North Carolina against the Hurricanes.
Puck drops at 6:00pm Central and you can catch all the action on FS-Tennessee (TV) and 102.5 the Game (radio).
—
PHOTO CREDIT: Jeremy K. Gover // section303.com