Preds get "shot in the arm" with Rinne's 7-year extension…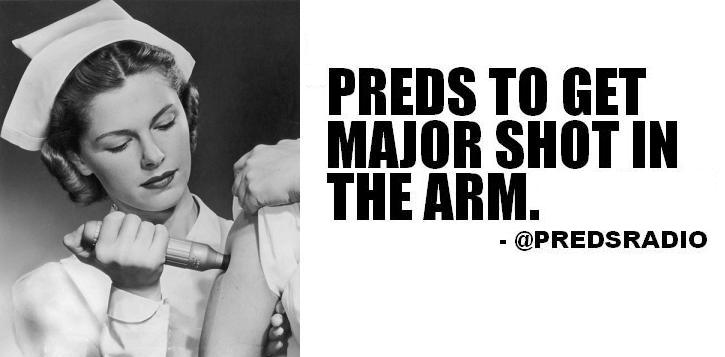 There are now Vezina Trophies in Nashville's future.
This morning, Tom Callahan tweeted that Preds fans would "get a major shot in the arm." This afternoon, it has been reported that Nashville Predators goaltender Pekka Rinne has signed a seven year contract extension worth $49 million.
Today is also Rinne's 29th birthday.
Rinne was set to become an unrestricted free agent on July 1, 2012 and 29 other teams would've rolled out the red carpet to sign him. Instead, the 2010-11 Vezina Trophy finalist will stay in Music City with a cap hit of $7 million per year, certainly having left money on the table to sign other pieces to the Stanley Cup puzzle the Preds are trying to build.
What does this mean for "The Big 3?" Are defensemen Ryan Suter and Shea Weber next? Suter is set to become a UFA on July 1 and Weber will be a restricted free agent on the same day. The team's captain was awarded a one-year contract worth $7.5 million this past August. The band-aid deal is supposed to buy time for long term negotiations between the two parties. Per league rules, however, he cannot sign an extension of any kind until January 1.
There's a common belief that the organization needed to prove to Weber that they could lock up the other key pieces as well as bring in an offensive stud in order for the Sicamous, British Columbia native to commit long term. This has to be the first step in making that a reality.
The official press release is below.
—
Nashville, Tenn. (November 3, 2011) – Nashville Predators President of Hockey Operations/General Manager David Poile announced today that the club has signed goaltender Pekka Rinne to a seven-year, $49 million contract – the largest in franchise history.
"Today's signing is further evidence of our ownership's commitment to keeping our core intact," Poile said. "This is the first step of a process designed to retain our key players and leaders. Pekka has grown with our franchise, just recently established our franchise record for career shutouts and is now recognized as one of the game's elite players. We're thrilled to know that he will be backstopping our franchise for several years to come."
Rinne, who is celebrating his 29th birthday today (11/3/82), finished second in voting for the 2011 Vezina Trophy and fourth in voting for the 2011 Hart Trophy, in addition to being named to the 2010-11 NHL Second All-Star Team. Rinne ranked second among NHL netminders in save percentage (.930), third in goals-against average (2.12) and tied for sixth in shutouts (6) in 2010-11, with the save percentage and goals-against average numbers setting franchise records. During the 2011 Playoffs, he led the Predators to their first-ever series victory in the Western Conference Quarterfinals vs. Anaheim, then posted a franchise-record for goals-against average in a series (1.94) along with a .932 save percentage in the Western Conference Semifinals against Vancouver.
Already in 2011-12, the Kempele, Finland native has recorded his 21st and 22nd shutouts, moving into first on the franchise's all-time list and giving him the most whitewashes in the League since 2008-09. His record-breaking 22nd shutout on Saturday against Anaheim was also his 100th career victory. In becoming the first goalie in club history to start each of the team's first 11 games of the season, Rinne has risen to first in the NHL in saves (307), second in shots against (333), and third in minutes played (624:37).
Nashville's 10th choice, 258th overall (eighth round), in the 2004 NHL Entry Draft, Rinne has also represented Finland in two of the past three World Championships (2009, 2010), being named one of the nation's three best players in both years.
In honor of today's signing of No. 35, specially discounted lower-bowl tickets for the next two home games (Nov. 12 vs. Montreal, the team's 1000th game, and Nov. 15 vs. Washington) are on sale for just $35 (limit four per transaction), and all Sport Seasons Six Packs are currently 35 percent off through this Saturday. To purchase tickets, visit nashvillepredators.com or call 615-770-7800.
—
INSET PHOTO CREDIT: @NHLPredsInsider // Twitter