VIDEO TIMELINE: Why the Preds and Ducks hate each other…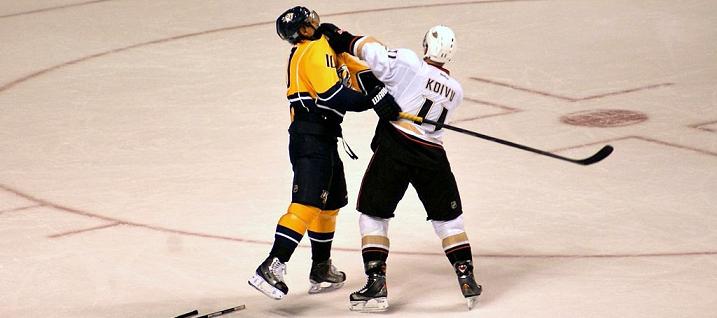 Alabama and Auburn. Yankees and Red Sox. Lakers and Celtics.
Predators and Ducks?
All of a sudden, two teams from non-traditional markets are forming one of the most hated rivalries in sports. Obviously it would take decades upon decades to match the rivalries of the examples above but, let's face it, those rivalries had to be born sometime. In the case of Nashville and Anaheim, the birth was in game one of the 2011 Western Conference Quarterfinals.
And then it grew from there.
Below is a timeline — supported by video evidence — that explains why the Preds and Ducks hate each other.
April 10, 2011 :: THE WARNING SHOT
In an interesting turn of events, it was actually the Anaheim media that fired the first shot in this rivalry. Orange County Register columnist Jeff Miller wrote a piece "previewing" the first round series and, well…. he called Nashville "Trashville." We then fired back with the mother of all responses (complete with the Rebecca Black video) and two hockey markets had officially dropped the gloves.
April 13, 2011 :: THE BIRTH
With a 3-0 lead in their pockets headed into the second intermission, the Preds were feeling pretty good. It was their sixth trip to the post season in the last seven years and they had a commanding lead over a team that boasted several offensive threats. One of those offensive threats was Hart Trophy finalist Corey Perry. Perry decided to spear Vezina Trophy finalist Pekka Rinne after the second period horn had blown. For some, this was an obvious attempt to take Nashville's best player off the ice for the series. For most, it was an absolutely unacceptable way to vent frustration. Why was Perry frustrated? His team was having a hard time with something that had come so easy during the regular season: scoring goals. The Predators fan base grew irate when it was revealed there was no penalty called. At that point, the rivalry was born.

April 15, 2011 :: THE STOMP
The Preds led the best-of-seven series 1-0. They're down by one in a game that, if they win, will give them a 2-0 series advantage headed back into their home building. There's less than 4:00 remaining in regulation. Predators defenseman Jon Blum has the puck tied up behind his own net but, in an effort to work it free, Anaheim sniper Bobby Ryan turns his skate into a weapon and  stomps on Blum's foot. No penalty was called on this play either, further enraging PredNation. They would get some reprieve, however, as Ryan was suspended for two games but, nevertheless, the hatred for the Ducks grew.

April 15, 2011 :: THE BUTT-END
Lost in the commotion of "The Stomp" was Ducks defenseman Sheldon Brookbank butt-ending Martin Erat earlier in the contest. Deep in the Anaheim zone, Brookbank positioned himself to win a battle along the boards but, in doing so, put the butt-end of his stick into Erat's face, forcing four teeth to pop out. Nashville Head Coach Barry Trotz called it "a hockey play" and, while it might have been an accident, it just added to the growing rivalry. I mean, have you seen Erat smile since the incident? It's not good.
April 17, 2011 :: THE FIGHT
Ryan Getzlaf follows Preds center Mike Fisher to the boards. Not expecting a solid shoulder check, Getzlaf's 6'4″, 220 pound frame goes flying and he's not happy about being embarrassed. So, being the classy player that he is, Getzlaf gives Fisher a shot in the rib cage (where there's no padding, by the way) on his way up the ice. Now, obviously, you don't want to see your star players fighting, but the cheap shot by Getzlaf had to be defended. And, considering Sergei Kostitsyn and Patric Hornqvist were on the ice with him at the time, Fisher did the right thing and stood up for himself.

April 18, 2011 :: THE ACCUSATION
This rivalry wasn't contained just to the ice, you know. Anaheim Ducks General Manager Bob Murray helped fuel it off the ice when he told Eric Stephens of the Orange County Register that "We've got to start diving because it's working (for them). They're getting power plays because of the diving. I can go through the list of players. You already know who they are. You've seen them. It's ridiculous." Unlike Murray, Trotz was too smart to get involved in a war of words. His response? "I'm not going to say anything about that." Ducks Head Coach Randy Carlyle knew it wasn't smart to give the Preds any more bulletin board material but still managed to back up his boss, saying "I'll just say the video doesn't lie."
April 20, 2011 :: THE HIT
Jarkko Ruutu has long been a player known as "dirty."  Let's see… he's had THIS clip on Martin St. Louis, he's had THIS incident where he bit Andrew Peters and then, of course, he had THIS ridiculously late and dangerous hit on Petr Schastlivy during international competition. So, during game three of the first round, Ruutu found yet another opponent to hit. This hit, coming in open ice, caused Erat to miss the rest of the series. Thankfully, the Preds advanced and Erat would take the ice again. Ruutu, by the way, was suspended one game for the incident.

April 22, 2011 :: THE SURPRISE FINISH
The series is tied 2-2. The Ducks have home ice advantage and are playing the critical game five in their own building. They're up 3-2 with less than 1:00 left. Nashville has never been up 3-2 in a series, let alone had a chance to advance in the playoffs on their home ice. Enter Shea Weber. The Predators' captain winds up and blows a puck past Emery to tie the game with only 0:36 left. Enter the fourth line. Nick Spaling gets a puck up to Jordin Tootoo who feeds a perfect pass from behind the Ducks net to a streaking Jerred Smithson who scores the first ever playoff overtime winner in franchise history. In short, Anaheim was less than 1:00 from a commanding lead in the series. Instead, the Preds pulled out a victory and stunned the Ducks in front of their own fans.


April 24, 2011 :: THE TEE TIME
Despite Anaheim scoring first and despite Anaheim tying the game late in the second period, the Preds ended the Ducks' season with a 4-2 victory. Nashville had never ended a team's season before and Anaheim went down in the history books as the first. The Ducks were heavily favored in the series as well, having tons of offensive talent in Getzlaf, Ryan, Perry and Selanne. Considering the Predators had scored the least amount of goals among Western Conference playoff teams, it looked as if it was the worst possible match-up for Nashville. Could Nashville muster enough offense to outscore a potent offensive team, and then do it four times in the same series? To put it in perspective, some Preds fans were even asking to play the Detroit Red Wings. Nevertheless, the hockey gods smiled on the Preds and the Ducks' summer started.

October 29, 2011 :: THE HIT II
Mike Fisher, who missed all of training camp and the pre-season recovering from shoulder surgery, was playing in just his third game of the year. Ducks blueliner Francis Beauchemin leveled Fisher while he received a pass from Erat in the neutral zone. While Beauchemin was slapped with a double minor, some thought it was a relatively clean hit. Others thought it was dirty and called for a suspension. The league decided not to suspend the Anaheim defenseman, however, further fueling an outcry from PredNation. Fisher would miss the next game with an injury he sustained on the play.

October 30, 2011 :: THE ACCUSATION II
Getzlaf, obviously frustrated that his team couldn't beat the Predators, chose to vent through the media as opposed to taking care of things on the ice. The Ducks captain told Eric Stephens "I'm tired of watching Jordin Tootoo out there, a guy who runs around and hits and does everything else but the first little slash, he's laying on the ice and he's out the next shift. It's embarrassing and I'm sick of it. If they want to change the game and they want things to be better and they want more respect on the ice, get guys like that off the ice then. I'm sick of it." Getzlaf was referring to the play below in which his teammate (our friend Corey Perry) once again used his stick as a weapon, slashing Tootoo. Did Tootoo dress it up a little? Maybe. But using your stick as a weapon is never okay and, if you're going to give a smart player the opportunity to call attention to it, you darn right he's going to.

November 9, 2011 :: THE FOURTH STRAIGHT
The mighty Ducks had lost eight of their last nine coming into the night and left having lost nine of their last 10. But, to add insult to injury, they had now lost four straight (going back to last year's playoff series) to the Predators, a team they are superior to on paper. This couldn't possibly sit well with Getzlaf who, once again, couldn't back up his accusations by actually playing well. Getzlaf finished the contest with no points and only one shot on goal. Heck, even Selanne (the Predator killer himself) finished pointless and with a minus-3 rating. You have to wonder if Nashville is in their heads.
Will these two teams add another chapter to their rivalry tonight in Nashville? You better be there to find out.
—
UPDATE: Through a little research, it just so happens that this was NOT Corey Perry's first time cheap shotting a goaltender. Check out THIS cross-check on former San Jose Sharks goalie Evgeni Nabokov. Later in the video, we see him take a swing at another former Sharks goalie, Brian Boucher, while he's down.
—
PHOTO CREDIT: Sarah Fuqua // Flickr (used with permission)