Preds manage point in game they have no business being in…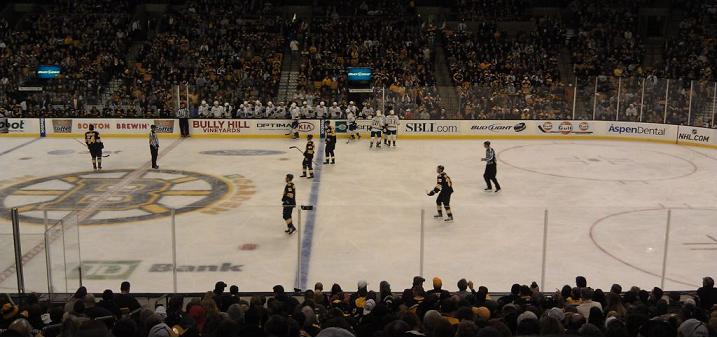 Sometimes it pays to be lucky more than it does to be good.
In front of 17,565 at TD Gardens in Boston, the Bruins defeated the Nashville Predators in a shootout, 4-3. Don't let the score fool you, however. The defending Stanley Cup Champions were dominant throughout the tilt. Predators goalie Pekka Rinne made 38 saves while last year's Vezina Trophy winner Tim Thomas made just 19 in the victory.
The Preds netminder was under siege in the opening 20 minutes. He stopped 15 in that period alone but faced 16, allowing a shorthanded tally to Patrice Bergeron 16:00 in. Rinne used his paddle in order to clear a puck into the corner but Ryan Suter couldn't get their first. Brad Marchand collected it, turned, and dropped it to Bergeron who used Suter as a screen to get one past Rinne for the score.
Midway through the middle frame, the Predators pulled even on a patented Shea Weber blast from the point. Bruins defenseman Adam McQuaid gave Patric Hornqvist a shot in the mouth after the whistle and was promptly given a 2:00 roughing call. While Hornqvist gnawed on a bloody napkin on the bench, his team registered their first shot on goal of the period and their first goal of the game.
In the third, Shawn Thornton made a beautiful backhand pass to a breaking Daniel Paille. Paille was able to evade Kevin Klein and one-time it past Rinne for the go-ahead tally.
Amazingly, the Predators would answer. Just as they had in the second period, Nashville scored midway through the frame on their first shot of the third. Sergei Kostitsyn rushed up ice and fed a pass to Hornqvist who was crashing the net. The Stockholm, Sweden native buried his 17th of the season to knot it at 2-2.
On just their 19th shot of the game, the Predators would take an unlikely lead. Hornqvist deflected a Fisher centering pass that Thomas turned aside. The problem for Boston was that he turned it aside right to Mike Fisher who slid it under Thomas' pads for the 3-2 lead.
Boston would tie the game in the final minute. With Thomas out of the net for the extra attacker, Milan Lucic was able to convert on a mad scramble in the Nashville zone.
Tyler Seguin and Bergeron would score in the shootout to win it for the Bruins. Erat and Kostitsyn went for Nashville but were unable to solve Thomas.
In short, the Predators escaped Beantown with a point. A point they really didn't deserve. They were thoroughly outplayed, they were grossly outshot and they were flat out dominated by their opponent. Nashville will try to ramp the intensity back up for the Valentine's day tilt against their Central Division rival Chicago Blackhawks.
Puck drops at 7:00pm Central at Bridgestone Arena.
—
PHOTO CREDIT: Mark Willoughby // The View from 111 (used with permission)