Preds name new head coach; Laviolette to focus on offense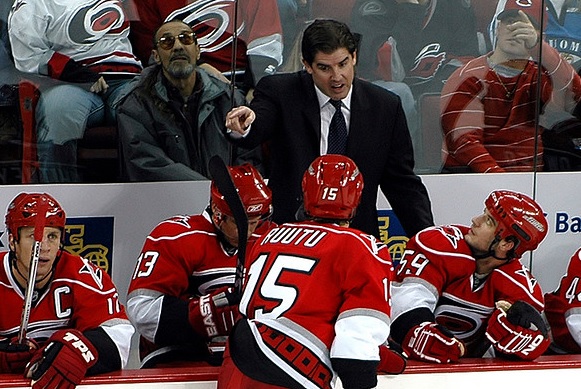 So much for that whole after-the-World-Championships thing.
For just the second time since 1997, Nashville Predators General Manager David Poile announced the team's new head coach on Tuesday. Former Philadelphia Flyers and Carolina Hurricanes bench boss Peter Laviolette gets the honor of filling Barry Trotz's massive shoes.
"I was very open minded going into this," Poile said of his search efforts. "My time frame was probably more for the month of June. I felt the timing was right and the person was right so we sped up our process."
Laviolette has taken his last two clubs to the Stanley Cup Final. He won it all in 2006 with the Hurricanes and then led the Flyers to the Final only to come up two games short in 2010.
"It really feels good today to know that we're in good hands with a real experienced coach that's turned franchises around," Poile said. "In his whole history, when he first started coaching, he took over a team in the ECHL and took them from a very low position into the playoffs to almost winning a championship. When he got his first chance in the American Hockey League, he took a team in Providence that had one of the worst records ever in the league and won 71 games and then won a Calder Cup."
Okay, but that's the minors. What about the big leagues?
"In his first NHL opportunity with the Islanders, he took a team that had 52 points took them to 96 points and a team that made the playoffs," Poile continued. "When he went to Carolina, they went from 76 points to 112 points in his first year and won the Stanley Cup. Then, in his last job with the Flyers, they went from 88 points to 106 points and they went to the Finals in 09-10. This is exactly what we'd like to have happen here."
Laviolette has never lasted longer than four and a half seasons in any one location. That's a far cry from Trotz who was the main man behind the Nashville bench for 16 years.
"There's a new sheriff in town and it's going to be different," Poile proclaimed.
Trotz coached nearly 1,200 games in Music City, finishing his tenure with a 557-479-60-100 record. His 557 wins and 1,196 games are 13th on their respective NHL all-time lists.
His biggest knock, however, was his inability to coach offense. Forwards drafted in the first round include Austin Watson (2010), Colin Wilson (2008), Alexander Radulov (2004) and Scottie Upshall (2002). Obviously the jury's still out on Watson but, of the others, only Radulov reached "game-changer" status but he did so after defecting to his native Russia where he won a KHL championship and was named the league's MVP three straight years. Throw in Scott Hartnell (2000) and David Legwand (1998) — who are the only two Nashville first rounders to have reached the 60-point plateau in the NHL, by the way — and Trotz was never able to cultivate a pure dynamic forward from the crop of talent Poile, AGM Paul Fenton and the Predators scouts gave him.
Laviolette, however, is focused on fixing that.
"My challenge will be to impart a system that enables our young forwards to thrive and reach their offensive potential," Laviolette told Nick Cotsonika of Yahoo! today.
Poile backed his new coach up.
"I wanted a coach that brought a little bit different style of play," Poile said. "When you make a change, you expect to have changes. Peter has a system that he plays that he's had success with. I guess you could call it more up-tempo and more offensive [oriented]."
With exciting prospects like Brendan Leipsic, Miikka Salomaki, Pontus Aberg, Calle Jarnkrok and, of course, Filip Forsberg coming down the pipeline, Laviolette may have an easier time in the offensive zone than Trotz did. That said, if he doesn't, we'll finally know that the problem was acquiring talent, not coaching it.
"Poile Watch" starts now.
---
PHOTO CREDIT: Jamie Kellner (used with permission)