Preds owners offer donation match in response to Ice Bucket Challenge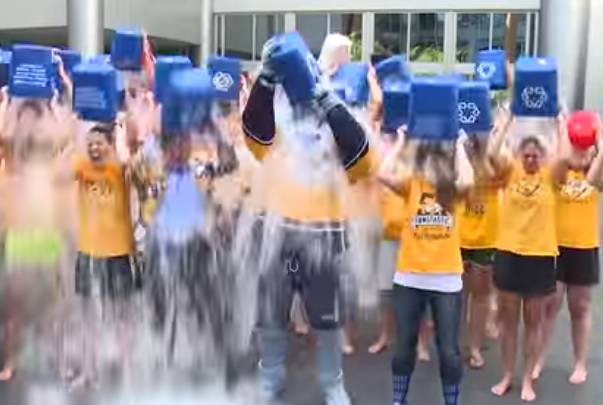 You've seen Colin Wilson. You've seen Seth Jones. You've seen Filip Forsberg. You've ever seen team President and COO Sean Henry.
You may have seen all of them take the Ice Bucket Challenge to raise awareness for ALS but Nashville Predators partial owners De Thompson V and John Thompson of Thompson Machinery have just taken it a step further.
The official press release is below.
---
Nashville, Tenn. (August 21, 2014) – Sparked by the Ice Bucket Challenge that has been sweeping the nation and led by members of the organization that have a special interest in the cause, the Nashville Predators are stepping up to raise a funds for the ALS Association. De Thompson V and John Thompson of Thompson Machinery, who are members of the team's ownership group, have agreed to match donations, dollar-for-dollar, for the initial $25,000 raised.
"We are excited to support the Predators initiative to help raise awareness and research for ALS," De Thompson said. "It is a horrible disease that has affected some of our closest friends and colleagues. Hopefully the millions raised with the Ice Bucket Challenge around the globe will help find the cure."
The Predators will be funneling their funds and efforts toward Head Athletic Trainer Andy Hosler's Walk to Defeat ALS Team at the Tennessee Chapter of the ALS Association's annual fundraiser, being held this year on Saturday, Sept. 27 at Allen Arena on the campus of Lipscomb University. Andy lost his father, James (age 61), to ALS in March of 2008. You can visit Andy's team page (named the Grandpa JJ's ToothAche Avengers) and make your own donation here.
"I am forever grateful and honored that the Preds are rallying behind my family, giving us the ability to raise more money than we ever thought possible," Hosler said. "I am truly blessed to be part of an organization that is willing to support a cause that hits so close to home. I know my dad would be honored by the generosity as well."
The Thompson family will be sending their funds to Project ALS in New York in honor of Tom Kirchhoff who is currently fighting ALS.  You can donate to Project ALS directly in New York by clicking here.
Through the Nashville Predators Foundation, Head Coach Peter Laviolette, General Manager David Poile, CEO Jeff Cogen and President Sean Henry have led the organization's fundraising endeavor, with awareness and support also coming from players such as Seth Jones, Shea Weber and Mike Fisher, who have all completed the Ice Bucket Challenge in recent days. Predators ownership group member W. Brett Wilson is also supporting the cause in his own unique way, donating $10 for every retweet of his Ice Bucket Challenge video (up to $10,000) from his account, @WBrettWilson. It can be seen here.
Other initiatives the Predators are undertaking to raise funds for Hosler's ALS Association Team include:
A Caterpillar front-end loader will be stationed at Ford Ice Center during grand opening festivities 

Sept. 12-14

 and on the Bridgestone Arena Plaza prior to and during the Predators preseason doubleheader on 

Sept. 27

. Participants may take on the Ice Bucket Challenge with the machine's help with a $20 donation, which turns into a $40 donation with Predators ownership's commitment to match all donations.
During the weekend of 

August 29-31

 at Ford Ice Center, $1 of every skate rental will go to the ALS Association, which doubles to a $2 donation with the match commitment.
ALS is a progressive neurodegenerative disease that affects the nervous system, with baseball legend Lou Gehrig being its first and most prominent victim. There is no known cure for ALS, but the ALS Association's mission is to "lead the fight to treat and cure ALS through global research and nationwide advocacy while also empowering people with Lou Gehrig's Disease and their families to live fuller lives by providing them with compassionate care and support."