Laviolette "can't wait" for camp, his first with a new team since 2001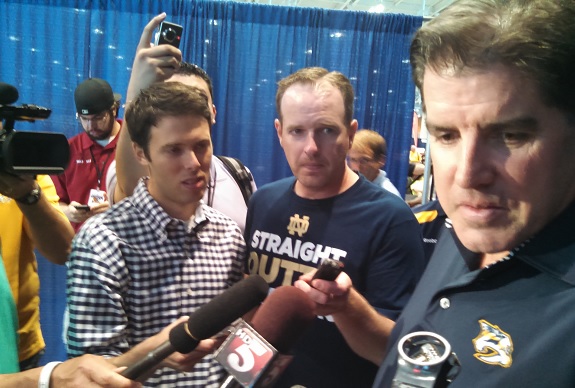 Before taking the Nashville Predators job this past May, Peter Laviolette had been an NHL head coach three different times. He led the New York Islanders from 2001-2003, he was the bench boss of the Carolina Hurricanes from 2003-2008 and he was in charge of the Philadelphia Flyers from 2009-2013.
In both Carolina and Philadelphia, he led his teams to the Stanley Cup Final, winning the Cup with the Hurricanes in 2006. But, also in those cities, he took over head coaching duties mid-season, never having a chance to assemble a team the way he wanted and instill strategies and playing styles he preferred from the outset.
Later this month, he'll finally get a chance to put his new team through a training camp of his own. It's been 13 years since he's been able to do that.
"I can't wait," Laviolette admitted. "It's a time where you can really start to form an identity and mold a group into a unit of one. Where you can build a group to go out and beat to the same drum. You don't get to do that when you get hired mid-season. It's very difficult to implement things as games are going on."
In Carolina, he was hired in December of 2003 and steered the Hurricanes to a 20-26-6 record before winning the Cup the following season. In Philadelphia, he was hired in December of 2009 and rescued the struggling Flyers just enough to make the playoffs by a single point.
In both instances, Laviolette couldn't assemble the squad he wanted to live or die with.
"The last time I was hired, I got hired and then we played that night," Laviolette said. "It's difficult to jump into a team like that. Even learning faces and learning a little bit about the guys and getting an opportunity to talk to them in practice and watch them. You gain all of that in training camp along with implementing a game plan."
This month, the Franklin, Massachusetts native will have a chance to pick the players he likes, implement the system he wants and do the things he feels are best. This time, all right from the outset.
Will a veteran forward like Viktor Stalberg make the opening night roster? Can Colin Wilson show him enough to earn a top line spot? Does he believe 20-year old Filip Forsberg is ready for prime time? Not being a mid-season coaching hire means that Laviolette can own these decisions himself instead of having to play with someone else's deck of cards for a handful of months.
"Training camp is going to be super competitive, I really believe that," he said. "All players — not just forwards but players in general — have an opportunity to make a statement. Even if you can see yourself slotted on the team somewhere, do you see yourself slotted on the top line? Do you see yourself slotted on the top penalty kill unit? Do you see yourself as a player that's on the ice with a minute left on the clock? All of these situations get to be evaluated."
While the Predators are bursting at the seams at forward, gone is the old guard that consisted of veterans like David Legwand and Martin Erat. Guys that knew they had a spot in the lineup regardless of how they were playing. A new regime is here and ready to make some tough decisions.
"We're going to treat it as openly and fairly as we can," Laviolette said. "I know that there's some numbers there but that should just create a real sense of urgency. Even from the exhibition games. Sometimes you use exhibition games, when you're rolling in from one year to the next, to shake off the rust. But these games will have a little bit of purpose to sending the message that each individual player is looking for this year."
With the sheer number of NHL-caliber forwards on the roster, guys who would normally get a chance to crack the NHL lineup such as Colton Sissons, Taylor Beck, Miikka Salomaki and even 2014 first round pick Kevin Fiala may be destined for the AHL regardless of how they perform in camp. Why? Because their lack of NHL games means they can be sent down without being exposed to waivers.
Then again, Laviolette's not so sure that's the case.
"We're in a position this year where I truly feel like somebody's going to surprise you," he said. "Somebody's going to come out and make the case that they deserve more minutes. They're going to get that chance."
For the first time in a long time, Nashville's training camp is set to be an exciting one. And those pre-season games where fans usually come out just to see the young prospects they know they're not going to see for a few years? Those are shaping up to have some meaning as well. All because Laviolette can finally develop his own team from the beginning.
"To start fresh with a group is exciting," he said. "It's been probably 12 or 13 years since I've done that so I'm really looking forward to it."
And so is Smashville.