Preds rebound from Edmonton loss, beat Canucks…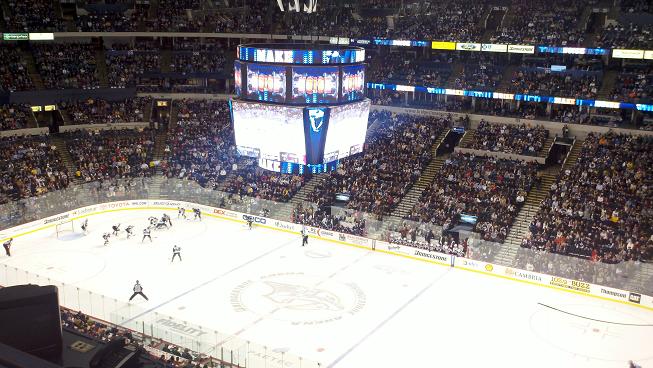 If you asked me before the road trip what the Preds would be after the first two games, I would've said 1-1. I just would've said the results would've been switched. Nashville lost to the Western Conference's worst team on Tuesday night in Edmonton, 2-1 in a shootout but, on Thursday, beat the West's best, 3-0.
Go figure.
In front of 18,860 inside Rogers Place in Vancouver, British Columbia, the Predators did what they couldn't do against the Oilers on Tuesday, and that's get a win. Nashville got goals from Blake Geoffrion, Patric Hornqvist and David Legwand in the victory.
Pekka Rinne was outstanding, stopping all 29 shots he faced to notch his fifth shutout of the season.
As of this moment, the Predators sit at sixth place in the West. Phoenix (5th), Los Angeles (9th) and San Jose (3rd) are all still in action.
After two scoreless periods, Nashville finally broke through early in the third. Jordin Tootoo, at the tail end of his shift, chipped the puck out in front of the net and, for the second straight game, Geoffrion scored the team's first goal. The Brentwood, Tennessee native now has goals in back-to-back games.
Toward the end of the period, Predators fans saw a familiar sight. Former Nashville defenseman Dan Hamhuis tried to carry out of his own zone but turned it over to Hornqvist. Once "Horn Dog" was in front of the net alone, it was all formality as he deked Canucks goaltender Roberto Luongo and scored his team leading 18th goal.
Legwand added the empty netter in the final minute.
The Preds will travel back to Alberta, this time to Calgary, for Sunday's tilt against the Flames. It is the last game of the regular season not on local TV. You will need the NHL Center Ice package for the final time this weekend and FS-Tennessee has the entire schedule the rest of the way out.
Puck drops at 8:30pm Central.
LEFTOVER THOUGHTS:
* Predators rookie Jon Blum played his first game in Vancouver since playing for the Vancouver Giants in juniors.
* Luongo is now 9-10-3 all-time against Nashville.
* Former Canuck Shane O'Brien took the first penalty of the game, which prompted a rain of boo's.
* One of the officials suffered an ankle injury in the second period, forcing a little old school hockey for the final frame: two linesmen and one referee.
* Preds defenseman Cody Franson
* Hornqvist finished with a team high seven shots on goal.
* Edmonton defeated the 12th place Columbus Blue Jackets tonight, further diminishing their playoff hopes.
* The game-winning goal by Geoffrion was the first of his NHL career.
THE THREE STARS OF THE GAME:
1) Pekka Rinne (NSH)
2) Roberto Luongo (VAN)
3) Jordin Tootoo (NSH)
—
PHOTO CREDIT: Jeremy K. Gover // section303.com