Rinne can't do it all by himself, Flames beat Preds…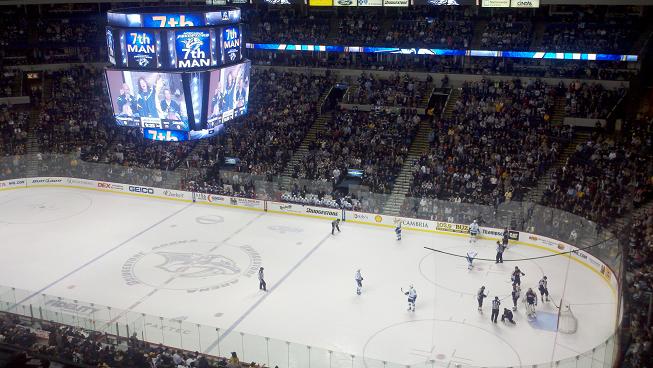 Nashville Predators goaltender Pekka Rinne had never beaten the Calgary Flames in his career.
He still hasn't.
The Flames poured on the pressure and beat the Preds 3-2 in a contest that was more than just a game. Coming into the game, both teams were in that seven-team logjam between 78 and 75 points in the Western Conference standings. Both teams desperately need to win games, especially against each other. In front of 19,289 at the Scotiabank Saddledome, they did just that.
Rinne finished with 33 saves (including 27 in the final 40 minutes) and was supported offensively by Martin Erat and Ryan Suter but, as it's been most of the season, two goals just wasn't enough.
The Predators have won just three games this season when scoring less that three goals. When scoring three or more, however, they're an incredible 30-4-1. Just more proof that Rinne can't do it all himself.
Things looked bright for Nashville early on as they got two goals in the opening frame. After Jon Blum wristed a shot on net from the blueline, the entire line of Erat, David Legwand and Joel Ward was in front of the net. Erat collected the rebound and put it by Flames netminder Miikka Kiprusoff to give the visitors a 1-0 lead.
After defenseman Mark Giordano tied the game thanks to a fluke deflection off of Shea Weber's stick, Suter answered for the Preds. Erat skated the puck around the back of the Calgary net and found Suter for a one-timer that got past Kiprusoff. Legwand and Ward were, once again, camped out in front of the net and it paid dividends as Nashville re-took the lead, 2-1.
In the middle frame, Jarome Iginla was awarded a penalty shot when he was hauled down by Sergei Kostitsyn on a breakaway. Rinne had only faced one penalty shot this season and he made a save on Phoenix Coyotes captain Shane Doan's attempt back on February 19. He wasn't so lucky this time around as Iginla bagged his 30th goal of the season to tie the game at 2-2.
In the third, Calgary made it 3-2 when there was a mad scramble for a rebound in front of Rinne. Nobody could pick up their man fast enough and Curtis Glencross tapped in his 22nd goal of the season. That ellusive third Nashville goal never came and the Predators dropped a tough one to Calgary.
Despite the loss, the Predators are still just a single point out of the playoff bubble in the Western Conference. They're also just two wins from 5th place. The season is long from over Preds fans. If you're losing hope, remember that with wins over San Jose on Tuesday, Minnesota on Thursday and the lowly Colorado Avalanche on Saturday, this team is fighting for home ice advantage, not just a playoff spot. So calm down, realize there's still 16 games left in the season, and that by having non-playoff teams Colorado (twice), Columbus, Atlanta, St. Louis and Edmonton still on the schedule, your team has a pretty good shot at making the dance.
But first things first: San Jose. Puck drops in Silicon Valley at 9:00pm Central on Tuesday.
LEFTOVER THOUGHTS:
* Kiprosoff started his 20th straight game tonight.
* Rinne started his 13th straight.
* JP Dumont was a healthy scratch for the fourth consecutive game.
* Three Wisconsin Badgers played in this game. Nashville's Ryan Suter and Blake Geoffrion and Calgary's Rene Bourque.
* The last time the Predators scored two first period goals was February 9 at Detroit.
* When he scored his goal, Suter tallied his 30th point of the season.
* Only Matt Stajan and Robyn Regehr failed to register a shot on goal for Calgary.
* Iginla became just the 10th player in NHL history to record 10 consecutive 30-goal seasons. The other nine guys are Hall of Famers.
* The remainder of the season will be televised locally. This was the final "Center Ice necessary" game of the year.
THE THREE STARS OF THE GAME:
1) Jarome Iginla (CGY)
2) Mark Giordano (CGY)
3) Martin Erat (NSH)
—
PHOTO CREDIT: Jeremy K. Gover // section303.com