Preds send Marek Mazanec down to Milwaukee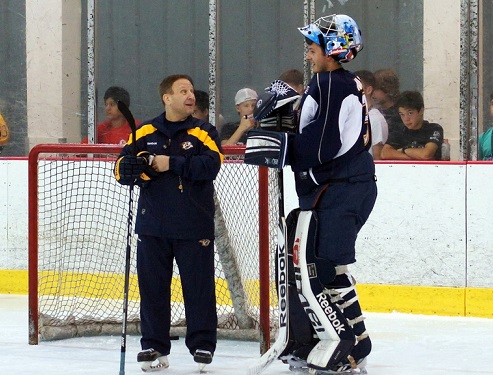 As expected the Nashville Predators have reassigned rookie goaltender Marek Mazanec to their AHL affiliate, the Milwaukee Admirals.
The acquisition of Devan Dubnyk from the Edmonton Oilers on Wednesday gave the Preds a starting netminder, something they haven't had with any consistency since Pekka Rinne was shelved with an infection in his surgically repaired hip back in October. Carter Hutton (9-7-2) and Mazanec (8-10-4) each had runs as the main man in goal but neither could sustain the momentum long enough to keep the crease. Mazanec, a rookie and therefore not subject to waivers, was the odd-man out.
It's not all bad news for Mazanec, however. The 2012-13 Czech Extraliga Champion is in just his first season in North America. He's experienced the high's and low's of the National Hockey League level and can now try to establish himself as a starter and regain his confidence at the AHL level.

But what does this mean for 2011 second round pick Magnus Hellberg? A truly gifted goalie with all the size the Preds usually look for in their prospects, the 22-year old Uppsalla, Sweden native single-handedly led Milwaukee to the playoffs last year by winning his last four games of the campaign and even pitched shutouts in the final two to propel his team into the Calder Cup Playoffs on the final day of the regular season. This year, however, he's been like most of the other goaltenders in the system, inconsistent. For example, he had a brilliant 40-save shutout performance on December 12 but then, two days later, allowed five goals on just 28 shots. He's posted a 5-13-1 record despite a respectable 2.82 goals-against average.
Does he become the back-up to Mazanec? Does he go to the ECHL's Cincinnati Cyclones once Scott Darling returns from injury?
Rarely is a demotion a positive thing for a player but for Mazanec and his unique situation this one is. The transaction will also give Hutton the chance to learn from a veteran goalie, something he hasn't had the chance to do since Rinne's injury.
The official press release is below.
***
Nashville, Tenn. (January 17, 2014) – Nashville Predators President of Hockey Operations/General Manager David Poile announced today that the club has reassigned goaltender Marek Mazanec to Milwaukee (AHL).
Mazanec, 22 (7/18/91), has posted an 8-10-4 record, a .902 save percentage, a 2.80 goals-against average and two shutouts in 25 games for Nashville this season, and is a perfect 5-0-0 in his first five starts in the American Hockey League with the Admirals, posting a 1.97 goals-against average and a .933 save percentage.
The Nashville Predators return to Bridgestone Arena for two divisional games in three-day span starting with the Colorado Avalanche on Saturday night in Smashville at 7 p.m. CT (FOX Sports Tennessee, 102.5 The Game). They close out the set on Monday night against the Dallas Stars at 7 p.m. CT (FOX Sports Tennessee, 102.5 The Game). On Saturday, purchase a McDonald's Family Four Pack of tickets, starting at just $33 each, which allow fans to receive four gold hats and four items from McDonald's with every Four Pack purchased. On Monday, all educators, police, firefighters, nurses, EMTs, military and other first responders with valid proof of profession will receive a $20 discount on all lower bowl and club level seating and $10 on upper level seating as part of Ford Hometown Heroes night. A limited number of tickets for both games still remain, to purchase tickets, visitnashvillepredators.com or call 615-770-7800.
—
PHOTO CREDIT: Sarah Fuqua (used with permission)