Preds take care of business in Big D, beat Stars 3-2…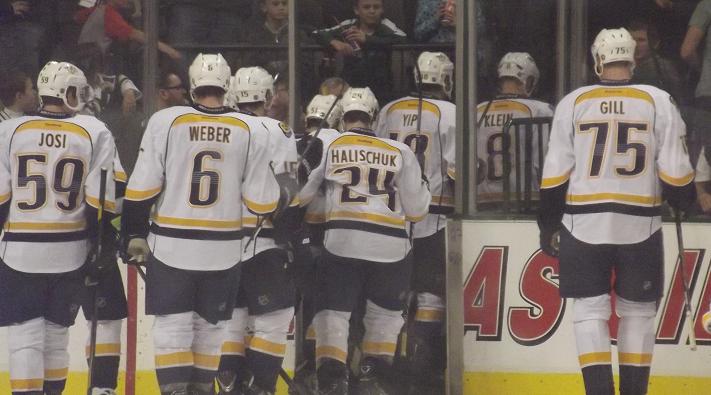 With the Chicago Blackhawks (6th place in the West) and the Detroit Red Wings (1st place) both winning their respective games on Sunday, it was imperative the Nashville Predators left the Lone Star State with a win.
And they did.
In front of a reported 11,865 at American Airlines Center in Dallas, the Preds put a big two points in their back pockets as they beat the Stars 3-2 on Sunday night.
Pekka Rinne was stellar once again, making 22 saves on this night. His countryman at the other end of the ice, Kari Lehtonen, didn't fare as well. He fell to 21-15-3 on the season, making only 18 saves.
After going down 1-0 early on, rookie winger Gabriel Bourque deflected a David Legwand shot from an impossible angle to tie the game.
In the final second of the opening period (that's right, the final second) Shea Weber one-timed a rebound past Lehtonen to give the Predators a 2-1 lead headed into the locker room.
Colin Wilson would notch his 12th of the season by using his backhand to light the lamp late in the second. This would end up being the game winning goal as Dallas would make things interesting in the third but fall short.
With the victory, Nashville was able to regain their three point lead on Chicago and gain a little bit of ground on the St. Louis Blues. The Blues and Predators will tangle on Thursday at Bridgestone Arena in what should be a statement game for both clubs.
Nashville's next tilt, however, is against the Vancouver Canucks on Tuesday night.
Puck drops at 7:00pm Central at 501 Broadway.
—
PHOTO CREDIT: Melissa Grissom // Twitter (used with permission)