Preds use power play, Rinne to notch win…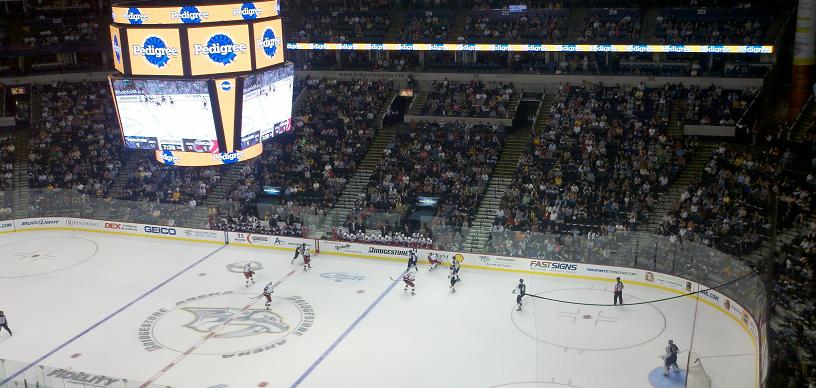 Who says the Nashville Predators power play is poor?
Well, okay, it is. But on this night, it was superb.
The Preds used two power play markers to dispose of the visiting Phoenix Coyotes, 3-0 in front of 14,333 at Bridgestone Arena. Both Shea Weber and Cal O'Reilly bagged goals on the man advantage to help Nashville get back in the win column.
In the four games before tonight, Pekka Rinne has been credited with the loss but none of the four were his fault. As a matter of fact, he had only allowed seven goals during that stretch. Tonight, not only did he keep up his impressive play, he got back in the win column and pitched his third shutout of the season by stopping all 33 shots he faced.
Rinne is back, folks.
But, more than Rinne returning to his elite status form, Nashville going 2-for-7 on the power play was the story. Weber's tally in the first period proved to be the game winner, the first game-winner to come on the man advantage for the Preds since October 14.
On that goal, Steve Sullivan found Weber with a cross-ice pass. With Ilya Bryzgalov still committed to the original shot, Weber wristed home the rebound. It was the captain's first goal since November 13.
The Predators, despite leading on the score sheet, only registered four shots on goal in the first stanza, compared to Phoenix's 10.
In the second, with both Derek Morris and Adrian Aucoin in the box, Nashville called their timeout, drew up a play and then executed. O'Reilly accepted a cross-ice pass from Sullivan and wristed it behind Bryzgalov – almost from the same spot Weber did earlier – to put his team up 2-0.
Just as an insurance policy, Jordin Tootoo slid home the empty netter from center ice with 25 seconds remaining.
Nashville has no time to pat themselves on the back as they are right back at it tomorrow night. This time in Columbus. Hopefully goaltender Steve Mason won't stand on his head like he did last week when he pitched a 27 save shutout.
Puck drops at 6:00pm Central. And yes, unlike tonight's contest, it will be on Fox Sports Tennessee.
LEFTOVER THOUGHTS:
* Nolan Yonkman, who spent four seasons with the Preds' affiliate in Milwaukee without ever suiting up for an NHL game, finally got the chance to skate on Bridgestone Arena ice tonight. As a member of the Phoenix Coyotes.
* Scottie Upshall, a former Predator, made his first appearance in this building since being traded to the Philadelphia Flyers for Peter Forsberg back in February of 2007.
* Free agent signee Matthew Lombardi would've played against his former club in tonight's tilt but it still on IR.
* Weber's power play tally tied him with Marek Zidlicky for second most in defensemen scoring on the all-time franchise list (175). Kimmo Timonen has the record holder with 301 points.
* O'Reilly's tally saw the birth of a new tradition at Bridgestone Arena. 107.5 The River's morning show host Jim Chandler orchestrated a new O'Reilly Auto Parts jingle to be played after he scores. But, instead of "Auto Parts, ow!" the revised song goes "he shoots, he scores!"
* The Predators have now killed 24 consecutive penalties.
* Sullivan, who had two assists tonight, was not named one of the game's three stars. A true injustice.
* Nashville was 58% in the face-off dot tonight.
* Expect Rinne to start tomorrow. When asked if getting the win was good for Rinne's confidence, Head Coach Barry Trotz hinted as such, saying "I'll let you know tomorrow."
MY THREE STARS (as voted on with 6:00 remaining in regulation):
1) Pekka Rinne (NSH)
2) Steve Sullivan (NSH)
3) Ilya Bryzgalov (PHX)
THREE STARS OF THE GAME:
1) Pekka Rinne (NSH)
2) Shea Weber (NSH)
3) Cal O"Reilly (NSH)