Rinne to miss games with knee injury; Dekanich recalled…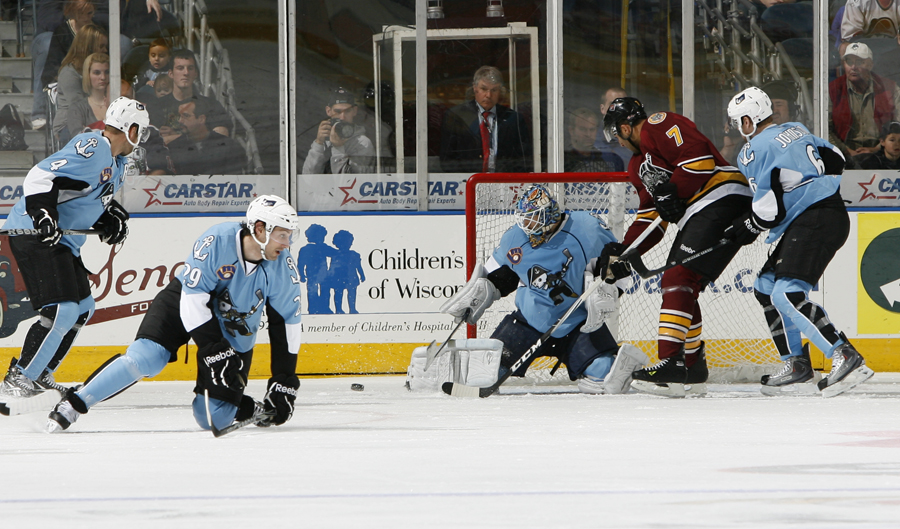 Nashville Predators goaltender Pekka Rinne apparently suffered a knee injury recently and will miss time. As a result, the Preds have recalled Mark Dekanich from the Milwaukee Admirals this morning.
Expect Anders Lindback to get the start tomorrow night against the Carolina Hurricanes in Nashville and against the Atlanta Thrashers on Monday night in Atlanta. The extent of Rinne's injury is unknown but, seeing as how the next two opponents are Eastern Conference opponents, Rinne doesn't need to be rushed back into the lineup.
Lindback has performed well beyond expectations when called upon this season. "Anders the Giant" is 3-1-1 when starting and has only allowed two goals total in the three games he entered on mop-up duty.
Speaking of Lindback, you may remember Predators fans walking around with these "Anders the Giant" shirts on. Lindback himself was given his own shirt and was flattered by the support. Well, considering he'll be the man for the time being, now would be a great time to get one of your own. Just contact graphic designer Rachel Addison on Twitter and she'll hook you up. All standard sizes are available still and t-shirts are only $12. All proceeds will be donated to the Predators Foundation.
More coming on this story as it develops. (Because, quite frankly, it came as a shock to everybody.)
UPDATE (10:48am): Former first round pick Chet Pickard has been recalled from the Cincinnati Cyclones of the East Coast Hockey League. Pickard and Jeremy Smith will take over in Milwaukee while Dekanich's services are needed in Nashville.
—
MAIN PHOTO CREDIT: Scott Paulus