PRESS RELEASE: 2011 Skate of the Union details released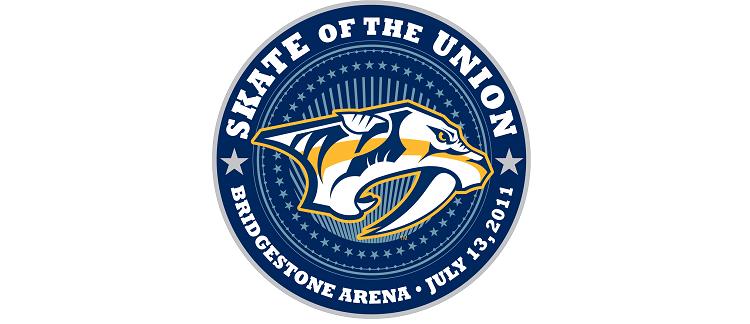 –Town-hall style event to feature Q&A session with Preds ownership, management and coaches; used equipment sale; plaza party; alumni autograph signing; and new home jersey reveal–
 
Nashville, Tenn. (July 6, 2011) – Fans in search of a mid-summer hockey fix need look no further than the Nashville Predators annual Skate of the Union event, held Wednesday, July 13 from 10 a.m.-9 p.m. at Bridgestone Arena.
 
This free event will feature a "Skate of the Union" address on the present and future of the Nashville Predators by President of Hockey Operations David Poile, Head Coach Barry Trotz, Chairman Tom Cigarran, President and Chief Operating Officer Sean Henry and Chief Executive Officer Jeff Cogen. The address will highlight the Predators 2011 draft picks, any signings or trades and an overview of the 2011-12 team and season schedule. The panel will speak with fans, answer questions and address inquiries on everything from hockey operations to business initiatives. The panel will be hosted by Nashville Predators Play-by-Play Announcer Pete Weber.
 
The event boasts autograph opportunities with Predators alumni, including original Nashville Predator Scott Walker and former Preds tough guys Wade Belak and Stu Grimson, as well as locker room tours and a plaza party hosted by Preds Color Analyst Terry Crisp and PA Announcer Paul McCann featuring live music, games and several unique attractions. The Preds' flagship radio station, 102.9 The Buzz will broadcast live from the Bridgestone Arena main concourse. Also occurring on the main concourse is a sidewalk sale and an extensive used-equipment sale, where fans will have the opportunity to purchase game and practice-worn equipment, with a special private pre-sale for Season Ticketholders prior to the main sale. Fans are also invited to shop the Nashville Predators Pro Shop, which will be open for extended hours. Make sure to stay till the end of the event, when the Nashville Predators will reveal their brand new home jerseys.
 
Skate of the Union attendees will have the first opportunity to sign up for a Nashville Predators branded Fifth Third Bank debit or credit card. There will also be other sponsorship activations throughout the day.
 
Fans are also invited to the Select-a-Seat and Open House, where they can pick their seats for the 2011-12 season. Anyone purchasing season tickets at Skate of Union will have access to a special, one-day ticket sales offer of a $50 per-seat discount.
Schedule of Activities:
10 a.m.Pro Shop opens and sidewalk sale begins
Select-a-Seat and Open House begins
11:30 a.m.-1 p.m.Used equipment sales for Season Ticketholders begins
2-5 p.m.Used equipment sale opens to the general public
3 p.m.Plaza Party kicks off with games, live music and more
4 p.m.Locker room tours
4:30 p.m. Alumni autograph signing
6 p.m.Skate of the Union address and new home jerseys are unveiled to the public
9 p.m.Event ends
 
Season tickets for the 2011-12 Nashville Predators season in Smashville are on sale now and start at just $19 per game. Great interest-free payment plans are currently available for Full Season and Half Season packages.  You can also make your own Flex Plan by picking 12 games that fit your personal schedule. To order tickets to the Nashville Predators, visit nashvillepredators.com/seasonticket or contact a ticket representative at 615-770-7800. Information on ticket availability for individual games will be announced later this summer