PRESS RELEASE: Gold Record documentary to be aired on FS-Tennessee…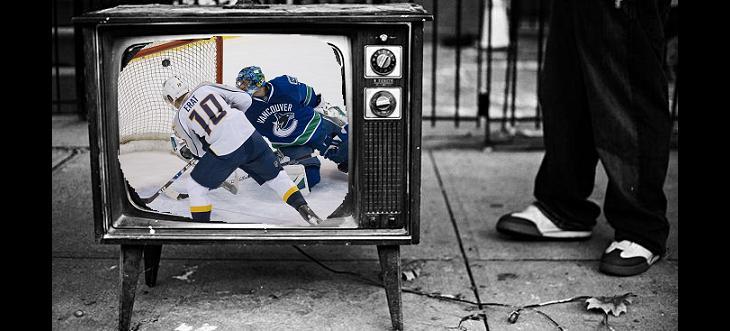 Are you a Nashville Predators fan who's not a season ticket holder? If so, then that means you didn't receive a copy of the Nashville  hockey documentary Gold Record.
Well now's your chance to watch it (or DVR it)!
If you're in the Middle Tennessee market, you can see the doc on FS-Tennessee. If you're a hockey fan not in the Nashville market, and you have the Fox Sports packages made available by DirecTV, etc., make note of the times below and set your DVR accordingly. It's an incredible story of Nashville's long standing hockey tradition.
The press release (with the details) is below. Also, you can listen to our interview with Gold Record filmmaker Scott Osborne by CLICKING HERE.
***
Nashville, Tenn. (January 31, 2012) – Leading into tonight's 7 p.m. Nashville Predators game vs. the Minnesota Wild, the Preds flagship TV station, FOX Sports Tennessee, will debut the one-hour documentary "Nashville Predators Present:  Gold Record – 50 Years of Hockey History in Music City."
This special takes a look back at the history of hockey in Nashville, beginning with the Dixie Flyers in 1962 all the way through to the present day Nashville Predators.  The show features interviews with Dixie Flyers captain Ken "Red" Murphy, South Stars owner Larry Schmittou, Knights radio broadcaster Steve Carroll, current Predators Chairman Tom Cigarran and country legend and hockey aficionado Barbara Mandrell, among others.  Fans will travel back in time to Municipal Auditorium, the original home of hockey in Nashville, by way of vintage footage and rare photos.  This all encompassing look at hockey in Music City will air on Fox Sports Tennessee several times over the next 6-8 weeks.
"Gold Record truly highlights the history and passion Nashville has had for hockey of the last half century," Nashville Predators Executive Vice President Chris Parker said. "It is a tribute to all the teams, players and fans who came before the Predators and laid the foundation for the support we have received over the last 15 years. We are sure that hockey fans and all sports fans in general will enjoy the program!"
The documentary was first shared as a Christmas gift to Season Ticket Holders, Premium Suite Holders, Corporate Partners and staff. 
Upcoming Broadcast Schedule:
·         Tuesday, Feb. 7
o   6 p.m. CT  (leading into Preds vs. VAN)
o   10 p.m. CT (following VAN post-game show)
·         Thursday, Feb. 9
o   10 p.m. CT (following Preds Snapshot, which follows OTT post-game show)
·         Saturday, Feb. 11
o   9 p.m. CT
·         Tuesday, Feb. 14
o   10 p.m. CT (follows CHI post-game show)
·         Sun day, Feb. 19
o   9 p.m. CT (follows DAL post-game show)
·         Saturday, Feb. 25
o   11 a.m. CT
·         March and April airdates TBD
The Nashville Predators take on the Minnesota Wild tonight (7 p.m., FSTN, 102.5 The Game) at the Xcel Energy Center in their first game back after the All-Star break. The team heads to Philadelphia on Thursday (6 p.m., FSTN, 102.5 The Game) to take on the Flyers before returning to Nashville to face off against the St. Louis Blues on Saturday. To purchase tickets, visit nashvillepredators.com or call 615-770-PUCK (7825).
Saturday also marks the annual Nashville Predators Fangtastic 5k Run/Walk, presented by Adventureworks. The Run/Walk begins at 10 a.m. and features an all-new course that takes runners and walkers through downtown Nashville, beginning and ending at Bridgestone Arena. More information, registration, race updates and packet pickup information may be accessed through nashvillepredators.com/5Krunwalk.