PRESS RELEASE: Increase in demand triggers change in $10 ticket policy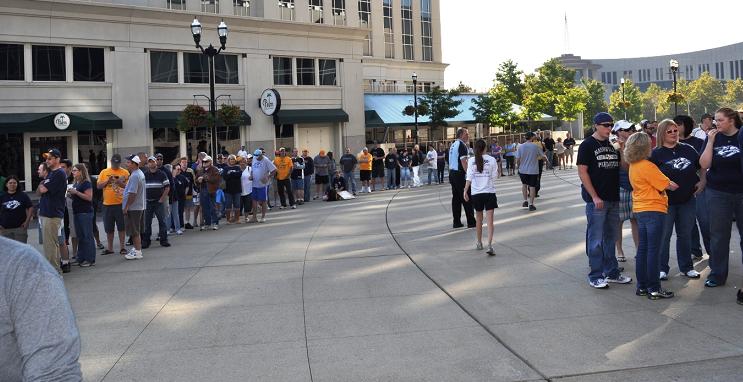 Nashville, Tenn. (January 19, 2012) – Due to overwhelming demand and growing ticket lines, the Nashville Predators have changed their existing Saturday policy for their wildly popular Day of Game $10 ticket special. Starting this Saturday at 9:30 a.m., Bridgestone Arena box office staff will hand out raffle tickets to anyone (age 12 and up) standing in line for the $10 ticket special.
Beginning at 9:45 a.m., 27 numbers will be drawn. The first 25 numbers chosen will have the opportunity to purchase up to four tickets for that evening's game at $10 each. The 26th and 27th numbers drawn will only have the opportunity to purchase tickets if inventory is still available.
"We made this change due to the incredible demand for these tickets, as well as for the convenience of our highly passionate fan base," Nashville Predators President and COO Sean Henry said. "In the past, we've had some of our most enthusiastic fans camp out overnight for the opportunity to purchase these tickets. With this new procedure in place for Saturday games, there is no need for fans to line up at the box office before 9 a.m. We are still holding back 100 upper level tickets for this special, as we always have. This change simply gives everyone who comes down a chance at the toughest ticket in town."
The $10 ticket special is a program that has been a hit with fans since it began in 2009-10. This season, the Predators have provided more tickets at $10 than in recent history, selling 100 $10 tickets to every game when tickets went on sale for the season, in addition to the regular Day of Game $10 special. While this new policy is currently only in place for Saturday games, increasing demand for tickets, both in the regular season and the playoffs, may result in the policy affecting all Day of Game ticket sales.
The Predators look to finish up their current three-game road trip with a win against the division-rival Columbus Blue Jackets tonight at 6 p.m. (FS-TN, 102.5 The Game) before returning home on Saturday to take on the Chicago Blackhawks in aMcDonald's Family 4 Pack matchup (7 p.m., FS-TN, 102.5 The Game). With Saturday's contest, the Predators look to attain their 15th sellout on the year, just one shy of the number hit in 2010-11. At this rate, the Predators are on pace to surpass the franchise record of 20 sellouts in a regular season, set in the team's first year of existence (1998-1999). To purchase tickets, visit nashvillepredators.com or call 615-770-PUCK (7825)
—
PHOTO CREDIT: Jeremy K. Gover // section303.com