section303.com contributes guest blog on Predators' official site…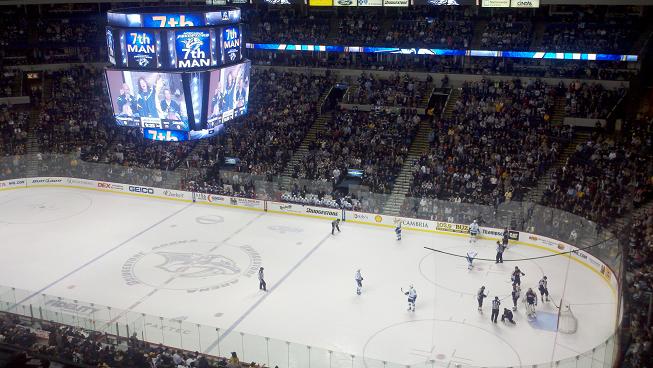 When the Nashville Predators approached us to do a piece for their Guest Blog feature, it took a while to decide on a topic. We could write about the youth of the 2011-12 team, but that's an article the team would write for themselves. We could write about Pekka Rinne's incredible season culminating with a Vezina Trophy nomination, but that's another article they would write themselves. We could write about how David Poile is the only back-to-back finalist in the two year history of the General Manager of the Year Award, but that's yet another article they would write themselves.
Ah ha!
We're Cell Block 303! Who better to write a blog about the atmosphere inside Bridgestone Arena on game nights?
—
What makes a Nashville Predators game so unique?
by Jeremy K. Gover, section303.com
Is it the organized chants? Is it the occasional star power on the band stage between periods? Is it the impromptu TV timeout standing ovations? What makes a hockey game in Nashville, Tennessee so unique?
All of the above.
Nowhere else in the National Hockey League do you have a crowd that essentially acts as a team member. And because Nashville Predators fans feel like they're part of the team, they take the term "home ice advantage" to a whole new level, cheering the Preds on to one of the best home records in the Western Conference (24-9-8). In 2010-11, only the mighty Vancouver Canucks had a better home record.
** READ THE REST OF THE BLOG HERE, ON NASHVILLEPREDATORS.COM **
—
Previous Guest Blogs include:
* Inside Smashville's Amanda DiPaolo :: CLICK HERE
* On the Forecheck's Dirk Hoag :: CLICK HERE
* Smashville 24/7's Ryan Porth :: CLICK HERE
* And there are more to come. CLICK HERE to go the Guest Blog main page.
—
PHOTO CREDIT: Jeremy K. Gover