Previewing the Predators' goaltending for 2011-12, part one…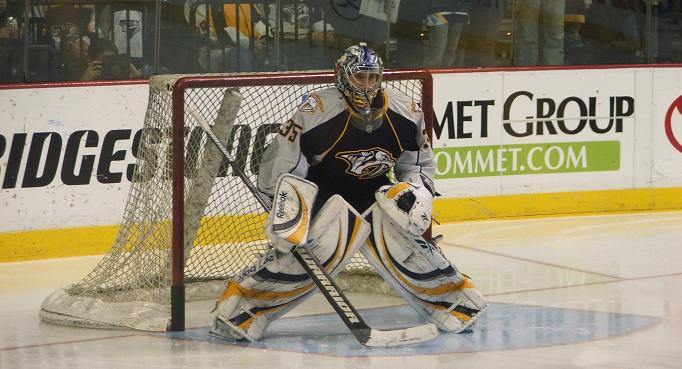 REALIZING WE NEVER FINISHED THIS SERIES, WE'RE BACK WITH THE TENTH INSTALLMENT OF OUR MULTI-PART SERIES PREVIEWING THE 2011-12 NASHVILLE PREDATORS ROSTER.
—
If you missed the post where we rounded out the defensemen, CLICK HERE.
—
When you score the least amount of goals among Western Conference playoff teams, you need a goaltender who can keep you in low-scoring games. Without said goaltender, you're fighting it out with the Edmonton Oilers, Colorado Avalanche and Florida Panthers for the first pick in the draft. Luckily for the Predators, they do have a guy like that. And the back-up isn't too shabby either.
Over the next two days we'll be previewing the Nashville nets, finishing off our full 2011-12 season preview.
—
STARTING GOALTENDER
Pekka Rinne emerged as an elite goaltender in the NHL this past season. Not only did he backstop the Predators to their fifth playoff berth in six years, but he was third in the league in goals against average (2.12), second in save percentage (.930) and, despite missing time twice due to injuries, registered six shutouts. Oh yeah, and he was the runner-up for the Vezina Trophy as league's best goaltender and he finished fourth in the Hart Trophy voting for league MVP. The best part about it, though? There are no signs of him slowing down or going into a slump. Since he signed his current contract (in late February 2010), Rinne is an incredible 50-26-10, all while blanking opposing teams 10 times in those 81 starts. If Rinne can stay healthy in 2011-12, there's no reason he shouldn't at least be nominated for the Vezina again and, therefore, put up more amazing numbers. And if the Preds can start scoring some goals, think of what his record will be like. Yikes!
2011-12 PREDICTION: 40-20-5
BACK-UP GOALTENDER
Anders Lindback was thrown into the fire early. While observing his first regular season North American hockey game from the comforts of the bench, his counterpart suffered an injury. Lindback was forced to come in and close out the final 17 minutes. After making seven saves to preserve the Nashville victory, the giant Swede would go onto start the next three games in Chicago and then back home against the St. Louis Blues and Washington Capitals. He would allow just eight goals in those four contests and would lead the Preds to a 2-0-1 record. He would finish his first NHL campaign with an 11-5-2 record, further proving that he could be trusted if his team needed to call on him. While Lindback remains trade bait for that "top six forward" we've heard so much about, if he sticks around all season, expect him to see limited ice time as Rinne seems to excel when given a ton of work.
2011-12 PREDICTION: 9-7-1
—
PHOTO CREDIT: Jeremy K. Gover // section303.com