Time to start the Radulov watch! Will the wayward Pred finally come home?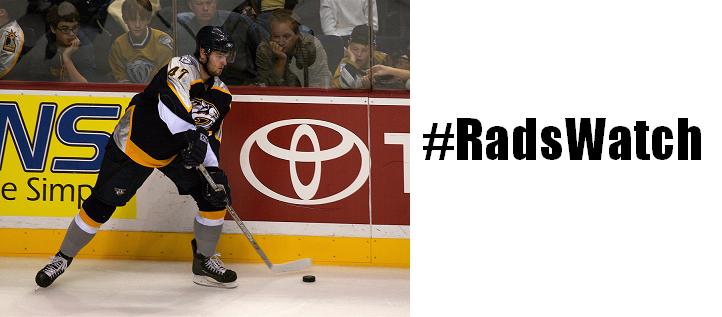 The "Radulov Watch" has turned into a full blown "Radulov Warning."
On July 11, 2008, Nashville Predators winger Alexander Radulov bolted to the Kontinental Hockey League despite having one year remaining on his entry level contract. He was 22 at the time and would become the face of the new league in his native Russia. The 2004 first round pick is a four-time KHL All-Star, has won a KHL MVP award (2010), a Gagarin Cup (2011) and set league records in scoring (254 points all-time), assists (163) and even plus/minus (plus-98).
Basically, he's won just about everything he can in Russia, short of maybe a goaltending award.
Fast forward nearly four years and the Predators have never been able to replace Radulov's offensive ability, through free agency, the draft or otherwise. While he still has one year left on his KHL contract, the Nizhny Tagil, Russia native has told Russian media that there is "a gentleman's agreement" in place to where, if he wanted to return to the NHL after his KHL season was over, he would be allowed to do so.
Well, his season is now over.
This has many a Preds fan salivating at the idea of their long lost sniper returning to don a gold #47 sweater in time for the NHL playoffs. And with Radulov's Salavat Yulaev Ufa club being ousted from the first round of the KHL playoffs this morning, now's the time to start speculating.
The question now is "how long would it take him to get back to Music City?" If his KHL season had ended on Wednesday morning, there was a minute possibility that he could be suited up for Saturday's contest against the Detroit Red Wings. However, that would've been a lot to ask of a guy who still needs to make amends inside the locker room, deal with media asking the same question 31 different ways and, of course, adjust to the 12-hour time difference. With that in mind, maybe it's a good thing that the Preds will be on a four-game west coast road trip next week. That would give Radulov time to get packed up in Russia, get settled in at his Nashville residence and make the trek halfway around the world without being in any kind of rush.
Assuming his first appearance would be after the trip, that would mean Tuesday, March 20 would be his first National Hockey League tilt since April 20, 2008. It would also give him 10 regular season games to adapt back to NHL life before the playoffs. And honestly, would the Preds even welcome him back if it took any longer?
You need all of your players on the same page come playoff time. The post season is no time to be working out kinks and ironing out wrinkles. Adding an elite goal scorer like Radulov sounds great on paper but, in reality, he's not just going to pick up that old violin he hasn't touched in four years and be part of the symphony. He'll have to re-learn it.
The week or so off gives him a good chance to do that and, quite frankly, it gives the coaching staff time to figure out what they're going to do with their lines. With everyone healthy (which this team basically is right now), the Predators have five lines worth of forwards. And that's right now. If they add Radulov to the mix, they're facing the tall task of scratching four healthy players that are dying to play each and every game.
That being said, there's no denying that adding Radulov makes Nashville a Western Conference favorite. Maybe not the favorite but certainly a favorite.
Now all we have to do is wait. And watch.
—
SPECIAL THANKS to the uber-clever JR Lind for coining the term "Radulov Warning."
—
PHOTO CREDIT: Jameson Roper // Flickr (used with permission)