Rinne: "I'm excited to be back in Milwaukee"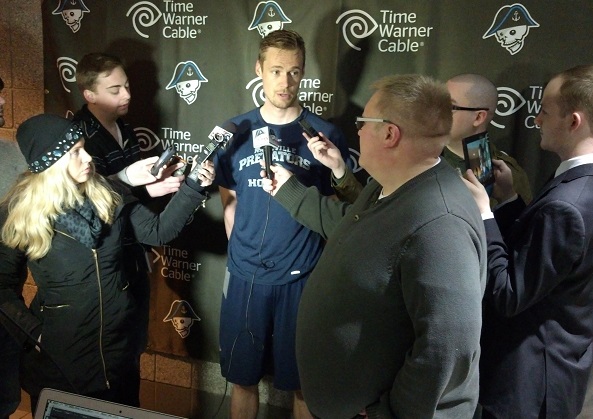 Nashville Predators goaltender Pekka Rinne hasn't played a game since October 22. Tonight, that will change.
The two-time Vezina Trophy finalist was assigned to the Milwaukee Admirals on Wednesday on a conditioning assignment after having dealt with an infection in his surgically repaired hip for the past four months. He arrived yesterday and took the ice with the Ads this morning for the first time.
"I'm excited to be back in Milwaukee," Rinne said. "It's one step closer to getting back on the ice with Nashville but, at the same time, it's a great opportunity for me to come back to Milwaukee and see everybody here."
Rinne, second all-time in Admirals AHL wins (81) by a goaltender, hasn't donned an Admirals sweater since April of 2008.
"This was my home for three years," Rinne said. "Everybody was so good to me. They have the same staff pretty much and the same owners. I get to come here and feel comfortable right away. I don't feel like a stranger."
He spent roughly eight minutes with the media and you couldn't wipe the smile off his face. The emotion was palpable.
"I've done everything you can possibly do," Rinne said about practicing with the Preds this past week. "But nothing's going to compare to actual games. And we haven't done any scrimmaging [in Nashville] so this will be my first game action in quite some time. I'm very excited about it."
His Milwaukee teammates are very excited too.
Anthony Bitetto (2010, 6th round pick, Nashville):
"He's one of the best in the world. It's amazing that he's able to come down here. He's had a tough year with his injuries and I'm glad he's back. He's a great guy and you learn from a guy like that."
Austin Watson (2010, 1st round pick, Nashville):
"It's exciting. Any chance you get to play in front of arguably one of the best goaltenders in the NHL, it's awesome. I think you can tell by the vibe around the rink today that everybody's excited. It's not everyday that we get to play in front of Peks. It's good for everybody. It's good for our team, it's good for our goalies here, they can learn a lot from him. We're just excited to play well in front of him."
Filip Forsberg (2012, 1st round pick, Washington):
"Hopefully he can have a great game and just be feeling 100 percent. We can't put any pressure on him either, though, because it's his first game in four months. I just hope that he can play well and feel great out there."
Admirals head coach Dean Evason:
"Not only to have a guy from the NHL but to have a guy like him. How he conducts himself on and off the ice. He's a pro. For our guys to watch him prepare this morning, watch him prepare before the game, watch him prepare post-game and then tomorrow again, it can only help us. We want our guys to take it all in and learn from a guy like that. We had an optional skate this morning and no one took their option. That should tell you something."
Puck drops tonight in Milwaukee at 7:00pm Central. Follow us on Twitter for in-game updates and full coverage of the atmosphere.
—
PHOTO CREDIT: Jeremy K. Gover // section303.com