Suter may be more important to Preds than Weber…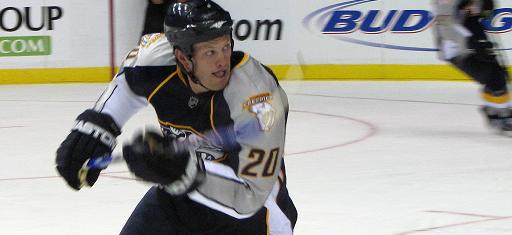 Shea Weber is the captain of this team and there is nobody in the league (sans a certain Boston Bruins defenseman) with a harder shot. He's a great all-around player and he leads the Nashville Predators in scoring (32 points). He's about to become a three time All-Star and he's a Norris Trophy runner-up.
You know what else he is? More expendable than Ryan Suter.
The Sicamous, British Columbia native isn't quite as dominant without his first lieutenant by his side. On the contrary, however, Suter is a more complete player without Weber by his. And he proved this recently. After Dallas Stars defenseman Mark Fistric knocked Weber out for four games with this hit on December 23, Suter averaged nearly 30:00 per game, all the while making rookie Roman Josi look like a seasoned veteran as the number two defenseman.
What about the team? Nashville hasn't scored a goal since Suter came out of the game on Monday afternoon. Five periods, no goals. Now obviously he's not exactly known as an offensive juggernaut but Suter is known for that elite-level first pass out of the zone. Without a good breakout, the Predators' transition game suffers greatly.
And then there's the results. With the captain out, the Predators are 3-1-0 this season. Without Suter? They're a combined 4-7-1 over the past two years.
A lot of Predators fans would have said it was Suter who should have represented Nashville at the All-Star Game in Raleigh, North Carolina last year. And while he's going to the annual event this season, an argument could be made that he's been the team's best defenseman for the past two years. Weber just gets all the credit because he's the superstar.
Which brings us to the inevitable topic of the trade deadline.
It's generally assumed that, if General Manager David Poile can't agree to terms with Suter (an unrestricted free agent on July 1) by February 27, the Preds should trade him and get a huge return. But Suter is a rental. What could Poile really get out of him? A lot, sure, but a goal scorer who's locked up long term? Probably not. And if not the goal scorer, are you really addressing a need? Furthermore, teams that are "sellers" will have no interest in Suter seeing as how he's just a rental. Thus, Poile can strike Columbus, Anaheim, Edmonton, the Islanders, Carolina, Montreal, Buffalo and Tampa off his list of potential trade partners before he even makes a phone call. That doesn't leave a whole lot of meat on the bone.
But what if he moved Weber? He's a restricted free agent this summer, which means he's more than likely locked up for next season (pending an offer sheet from another team, which is rare) and he's the blueliner with all the awards and accolades. Short and sweet? Weber's the big name in Music City, not Suter. Therefore, Weber would bring an even bigger return. A king's ransom, if you will.
Obviously it's a tremendously delicate situation. If you're Poile and you trade Suter, you've not only broken up the best defensive pairing in hockey but you're going into the postseason (you hope) with a superstar defenseman who has yet to prove that he can be dominant without a top-notch partner. And, if you trade Weber, you've still broken up the best defensive pairing in hockey and you've traded away the face of your franchise. But, if you keep both (without re-signing them), you give your hockey team the best chance to win now but possibly sacrifice long term success by watching them walk away for nothing.
(See: the Dan Hamhuis situation in 2010.)
And here's one more log on the fire. Arch-rival Detroit is most likely losing legendary defenseman Nicklas Lidstrom next year due to retirement. If Suter tests the free agent market, the Red Wings will find a way to sign him. Does Nashville really want to see Suter in a Detroit sweater six times a year? As Patten Fuqua of puckscene.com said on The 303:30 a couple of weeks ago, the Predators have been waiting since the franchise's inception for the Red Wings to lose Lidstrom as that would finally indicate a decline in their dominance. But if they got Suter (or Weber), they'd be hitting the reset button for another 15 years.
The Predators are known for their defense on the ice. It might be time to play a little defense with personnel too.
Some would say that having two All-Star defensemen is a good problem to have. I would say that I absolutely would not want to be David Poile for the next six weeks.
—
PHOTO CREDIT: Paul Nicholson // special to section303.com (used with permission)
—
SPECIAL THANKS to Buddy Oakes of Preds On the Glass, Ryan Porth of smashville 24/7 and Amanda DiPaolo of Inside Smashville for their second set of eyes on this post.