The bobblehead movement…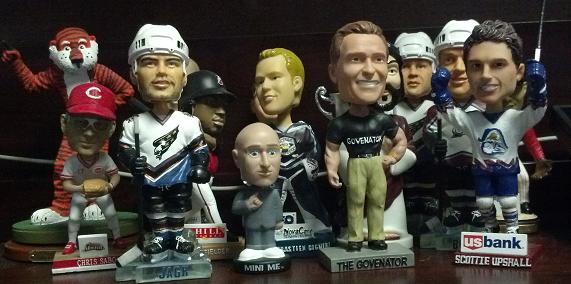 The Chicago Blackhawks have them. The Carolina Hurricanes have them. Even the Phoenix Coyotes have them (albeit they weren't of players).
Bobblehead Nights have been a fan favorite throughout the sporting landscape for years, yet the Nashville Predators haven't given away the always agreeable dolls since before the lockout. Frequent giveaways at 501 Broadway consist of rally towels, t-shirts and thunder sticks, all great items that help create a great atmosphere inside Bridgestone Arena. But, short of the player calendars that help promote canine rescue, there's just not a whole lot of promotional items that are meant to be enjoyed at a later time.
"Imagine our infamous standing ovations without rally towels," Nashville Chief Marketing Officer Chris Parker told us. "Or the playoffs without the sea of gold t-shirts. Giveaways like rally towels and t-shirts can be pulled out and utilized again and again. Stationary items don't necessarily evoke an emotion."
All fair points. But what about the die-hard fans who rep their favorite team on their desks at work? Or the season ticket holders who have a multitude of "Stand With Us" shirts because they come to every single game? I mean, at what point do you have too many rally towels? Surely something different can be thrown into the promotional schedule every once in a while for them.
One contrasting view is within the Predators organization itself. Nashville's AHL-affiliate, the Milwaukee Admirals, flaunt the nodders and they've been pretty successful in doing so.
"They are very popular with our fans," said Charlie Larson, the Media Relations Director for the Admirals. "They are usually one of the top giveaways from a demand perspective. Also, while we have our bobblehead giveaways on nights that would draw a bigger crowd anyway, the crowd definitely arrives earlier than normal, which is a good thing."
Doug Warf, Carolina Hurricanes Vice President of Marketing, agreed.
"(Last year was) our fifth consecutive season of doing a four player set," he said. "We have continued our sets because fans — especially our devoted fans — have enjoyed collecting them and they add value to those who attend."
Speaking of value…
While this isn't exactly what Mr. Warf meant, value is an undeniable factor where bobbleheads are concerned. This Patrick Kane bobblehead, which was given out at United Center on February 23, will sell on eBay for over $50. Being one of the faces of the league as well as a Stanley Cup champion, Kane has been the subject of many bobbleheads in the past so it's not very difficult to find one. With that in mind, can you imagine what a Shea Weber bobblehead would go for? Most want to collect them but, if a "rare" item is given away, that's when fringe sports fans come out of the woodwork. A casual fan will buy a ticket if it means they can make a few bucks with the promo item. And what's the purpose of giveaways? To introduce casual fans to the sport/team and reward the faithful for their commitment. What better way to do both than a bobblehead night?
Since the current CBA requires any promotional item to feature at least four different players, perhaps that's why the Predators gave bobbleheads a rest before the lockout. They didn't really have four stars that would warrant the treatment.
How times have changed.
With back-to-back Vezina Trophy finalist Pekka Rinne, back-to-back Norris runner-up and team captain Weber, two-time 25-goal scorer and Swedish Olympian Patric Hornqvist and newly re-signed first line center Mike Fisher, the Predators have four highly-sought after characters that would create some real buzz.
Matter of fact, here's our proposal:
| | |
| --- | --- |
| OCTOBER | Pekka Rinne |
| NOVEMBER | Patric Hornqvist |
| DECEMBER | Pete Weber (in Santa hat) |
| JANUARY | Mike Fisher |
| FEBRUARY | Barry Trotz |
| MARCH | Shea Weber |
.
It's hard to imagine that the Predators couldn't find a sponsor for a giveaway that would be this popular.
We hope, one day, to see the words "Bobblehead Night" appear once again on the Bridgestone Arena promotional calendar. But what do you think? Would you like to see bobbleheads given away at games? If not, why not? If so, which Predators players/personalities would you put in the series?
Leave your comments below. Who knows, you may start a movement (see: Bring back Run This Town).